2 Quick Daily Routines that Teach
By Karen Cox
These are two quick classroom routines I do each morning. They take about 5 minutes to do, and they teach math and literacy skills.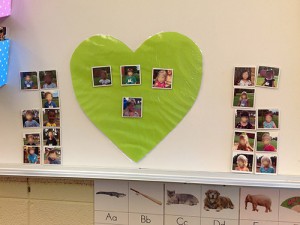 First, we do the attendance together. I have photos of each of my students on the dry erase board. These are printed at about 1 or 1.5 inch squares, laminated, with a magnet attached to the back. I made a heart from paper which also goes on the board. If a student is absent, we put their picture in the heart. I ask the children to give me stats about the attendance chart, such as "how many children are in the heart?", "how many boys/how many girls?", "do we have more boys or more girls?"
.
If any children come in late, I would say "If we have 5 children in the heart and we take 2 away, how many do we have left?" Questions can also be asked about the children who are not in the heart (their pictures are posted on each side of the heart).
.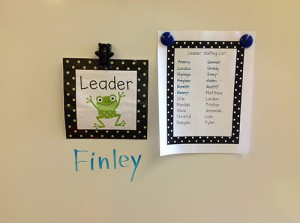 Next, a leader is chosen for the day. Our leader leads the line and does other classroom jobs throughout the day. I have a list on the board with every child's name, and we go down the list, alternating boys and girls. A name is crossed off when a child has a turn, so that the children can figure out who is next and when their turn will come. I write the leader's name on the board and spell it out as I write, saying "Finley has an uppercase F, then lowercase i, n, l, e, y."
.
In my class, someone always comments on the name being short or long, but if your students don't point this out you can prompt them. Then I ask them to count how many letters are in the name. Every child counts and says the answer aloud, then we count together so they can check their answer. I randomly point out letters, asking the children to name them, and I ask which letter is uppercase.
.
Later in the year, I will ask the children to count and name the vowels and consonants. To introduce this, I use a different color marker for the vowels, and continue to use contrasting colors as long as needed.