Valentine Theme Math and Poetry Activities – Karen's PreK Page
By Karen Cox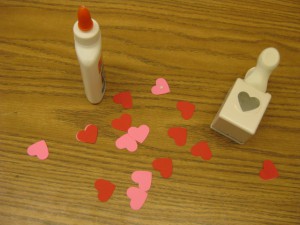 Heart More & Less Game
I used a heart shaped paper puncher to cut red and pink hearts, and glued the red and pink hearts together so they would be double-sided (pink on one side, red on the other). Give each child a cup of ten hearts, and have them pour out the cup of hearts letting them flutter to the table. Some will land with the pink side up and some with red. Have children count how many pink hearts and how many red hearts are on the table, and determine which color has the most, least, or same amount.
Heart One-to-One Counting
Use the same double-sided hearts. This activity helps those children who tend to double count objects or miss counting some objects. Turn all of the hearts to the red side. Have the child turn the hearts to the pink side as they count aloud, turning each heart as they say each number.
"Queen of Hearts" Rhyme
Turn this traditional nursery rhyme into a movement activity:
The queen of hearts (draw a heart in the air)
She made some tarts (pretend to roll dough with rolling pin)
All on a summer's day. (wave arms up & around)
The knave of hearts (hands on hips, make a mean face)
He stole those tarts (make a snatching away motion with hand)
And took them clean away. (pretend to eat the tarts)