November Activities – Karen's PreK Page
By Karen Cox
Thanksgiving & November Ideas
*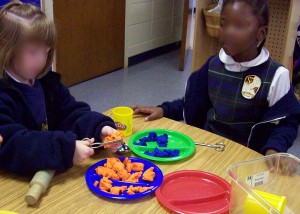 Play Dough Dinner
: Place plates, cups, bowls, plastic knives, spoons, small pie pan, and cookie sheet in the play dough area. Children can use these items to make a Thanksgiving dinner with the play dough.
*
Dinner Napkin: Use pinking shears to cut pieces of white fabric into squares (about 12×12 inches). Children can use fabric paint and craft stamps to decorate the napkins or fabric markers.
*
Food Counting: Label disposable plastic plates with numerals 1-10 (or the numbers you are currently working on in class). Use play food from the housekeeping center or have children make food with Model Magic. Children will count out the correct amount of food to place on each plate.
*
Sensory Table (Pie Crust Dough): Place mixing bowls in the sensory table along with small amounts of flour and water for each child. Allow children to pour the flour and water into their mixing bowl, and stir with a spoon. They may also knead the dough with their hands.
*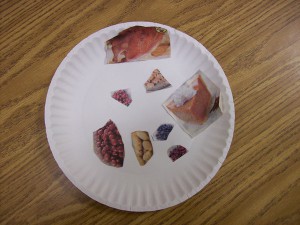 Cutting Skills:
Ask parents to send in the grocery store sale fliers from the newspaper. (I always remove the beer and wine pictures in advance.) Children will cut out the foods they like and glue them onto a paper plate to make a Thanksgiving dinner picture.
*
Pumpkin Pie: Children can make their own mini pumpkin pie using this no-heat recipe.
Ingredients:
Mini graham cracker pie crust (1 per child)
Vanilla pudding (about 2 spoonfuls)
Whipped topping (about 1 spoonful)
Canned pumpkin pie mix (about 1 spoonful)
Directions: Stir the pumpkin pie mix and vanilla pudding together in a bowl. Spoon the mixture into the mini pie crust. Add a spoonful of whipped topping. Enjoy!