Learning Centers with a Christmas Theme – Karen's PreK Page
By Karen Cox
Tweet

Your students will enjoy these ideas for Christmas Centers, most of which are adaptable to non-holiday themes., from Karen's prekinders.com.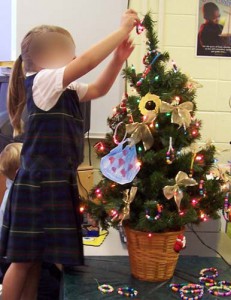 House Center:
Add a small Christmas tree, and some unbreakable ornaments. Let children decorate the tree themselves. Allow them to take the ornaments down and re-decorate as often as they want.

Science Center:
Instead of a "feely bag", make a "feely stocking". Put a dollar store Christmas stocking in the science center with some common objects inside, such as a marker, key, ball, small teddy bear, etc. Children feel inside the stocking without looking and use their sense of touch to guess what they feel inside. You may also want to take photos of each object you put inside and tape the photos onto the shelf by the stocking.
Block Center:
Collect cardboard boxes and wrap them in Christmas gift wrap paper. (Capri Sun boxes work well.) Children can use the boxes for stacking and building towers of "gifts".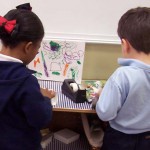 Gift Wrapping Center:
Set up a Holiday Shop with small cardboard boxes with lids (such as the cardboard boxes that jewelry comes in), gift wrap, and tape. Ask parents to send in scraps of wrapping paper or buy some cheap paper at a dollar store. Children like to hide "treasures" in the boxes, wrap them, and pretend to give a gift to their friends.