Karen's PreK Page – Blogging Your Classroom Newsletter
By Karen Cox
Parent newsletters in Pre-K are essential in order to keep parents informed about what their children are learning in school as well as how they are learning. Many parents may not understand a hands-on approach, and when they don't see paper work coming home with their child, they are confused about what their child does in school. A newsletter with pictures of the children learning solves that problem because parents get a glimpse into the classroom.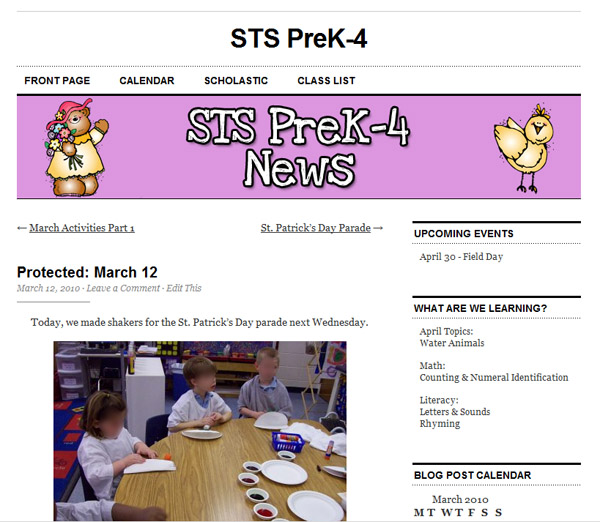 Last year, I began publishing our class newsletter by blog. This allowed me to share with parents lots of photos (in color) of their children learning, and I didn't have to use any ink or paper. The response from the parents was fantastic.
To start a class newsletter by blog, you will need to first sign up with one of the free blogging services: WordPress, Blogger, and Typepad are some examples. Each blogging service has free software that you will need to "play with" to learn. The software is designed to be easy-to-use, and you can find many tutorials on YouTube or by searching the internet.
One thing I like about using a blog as a platform for a parent newsletter is that I can create my own widgets in the sidebar for quick notes to parents. My widgets are "Upcoming Events" and "What are We Learning?". Under the Upcoming Events widget, I post the dates of school holidays, field trips, or other special school events. Under the What are We Learning widget, I post the themes and skills we are covering for the month. I was able to create pages to post information that parents could access easily, such as a class list or information about book orders. The blog has also been useful for making wish lists for classroom supplies. When I needed parents to donate supplies for gingerbread houses, I posted the list of supplies and asked parents to write a comment to the post saying what they would bring. That way we didn't get duplicate items.
If you don't want your student's pictures to be viewable by anyone on the internet, publish your post as "password protected" and send the password to parents by email. To allow parents to memorize the password, I recommend using the same password for each post.