Getting to Know You Activities – Karen's Pre-K Page
By Karen Cox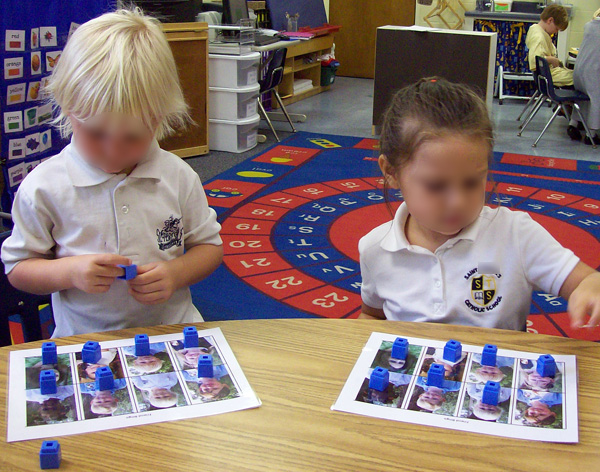 Many children have difficulty learning the names of their classmates, some children more so than others, especially in a large class. For a few weeks, children might call their classmate "the boy in the blue shirt," which is difficult (and amusing) in a school that requires uniforms, and every boy is "the boy in the blue shirt." These are games we play at the beginning of the school year to help children learn each other's names.
Bean Bag Toss: This is a very simple game for children to introduce themselves. I toss the bean bag to a child, the child says their name and their favorite flavor of ice cream. They then toss the bean bag back to me. The game can be played repeatedly over the next few days using favorite food, favorite color, favorite TV show, etc. If a child is too shy to say their name aloud to the group, I say it for them.
Graphs: Attach a photograph of each child to an index card and use these to make a graph in a pocket chart. You could graph the number of boys and girls, who has pets or does not have pets, who has siblings or does not have siblings, who likes/does not like pizza, etc. Hold up a picture of a child, and ask the class to say the child's name. That child will take their card to the pocket chart and place it in the graph.
Guess Who's Missing: Decorate a large cardboard box or use a small tent, and play this guessing game. While everyone's eyes are closed, tap one child on the shoulder. That child will crawl in the big box or tent. Tell the children to open their eyes and guess who is missing from the circle.
Class Book:
Attach each child's photo to a page of a class book and write their name below the picture. If you have read the book, Brown Bear, Brown Bear, What Do You See?, in class, you can make a similar book, such as "John, John, who do you see? I see Emma looking at me." You can make a simple book by stapling paper together, but to make a more durable book, purchase a "presentation folder" with clear page protectors bound inside at an office supply store. Slip each page inside the page protectors. Allow children to take turns taking the book home to read with their families.
*
Friend Bingo: (See photo at top.) This game serves as a kind of observational assessment because it helps me see which children have not learned any or very few names. Maybe that child needs some guidance making friends. Make your own bingo cards with photos of your students. This is how I made the game using Microsoft Word 2007: Create a table with 2 rows, 4 columns in a Word document. Adjust the table cells to the size you want. A little tip: Highlight your entire table, click Layout, Auto Fit, & Fixed Column Width– that will keep the images you insert the size you want them. Then insert photos of your students into the cells, print the bingo cards on cardstock, and laminate. Also make a set of "calling cards" — photo cards that the "caller" (you or the children) can use to call out names during the game. We used Unifix cubes as our bingo markers.
Click here to read more of Karen's Pre-K pages!