Earth Day Ideas – Karen's PreK Page
By Karen Cox
Earth Day in Preschool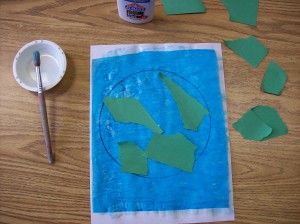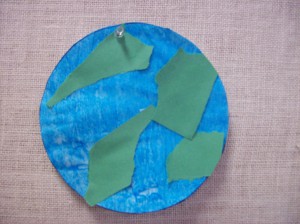 Tissue Paper Earth
Draw a circle on a piece of white paper using a permanent black marker. Have children lay a piece of blue tissue paper over the white paper and paint over it with liquid starch to make it stick. Children tear pieces of green construction paper and glue them on the circle for the land. Have children cut out the circle on the black line after it has dried.
Play Dough Earth
Give each child a ball of blue play dough and a ball of green play dough. Have the children knead the dough together until the two colors are swirled, and roll the dough into a ball with their hands. The finished ball will look like the Earth, with green and blue for the grass and water.
Recycle Sorting
Ask parents to send in washed plastic bottles and drink cans. Collect paper in the classroom, for example, scrap paper or unclaimed art that can be recycled. Set up three bins in the classroom and label them "bottles", "cans", and "paper" with a simple picture to represent each word for non-readers. Have children practice sorting skills by sorting the three kinds of items into the three bins.
Nature Walk
Take children on a nature walk around your school, and ask children to look for specific things that are natural, such as trees, leaves, flowers, weeds, pine cones, etc. Point out items that are artificial (made by people), such as playground equipment, picnic tables, cars.
Earth Day Books:
On Earth, by G. Brian Karas
All the Colors of the Earth, by Sheila Hamanaka
Our Earth, by Anne Rockwell
I Love Our Earth, by Bill Martin, Jr.
The Earth and I, by Frank Asch
Recycle Every Day, by Nancy Elizabeth Wallace
A Tree is Nice, by Janice May Udry
Biscuit's Earth Day Celebration, by Capucilli & Wenzel
I Can Save the Earth, by Inches & Garofoli
*
*
*
Check out Karen's PreKinders site for more preK fun!