Make Block Play More Open-Ended with These Ideas – Karen's PreK Page
By Karen Cox
Karen Cox, teacher and creator of prekinders.com shares ideas for enhancing the all-important Block Play Center in any classroom! (Click on images for enlarged view.)

River Rocks, Leaves, Flowers
Children find many creative uses for the rocks, leaves, and flowers. They sometimes use them to decorate their block creations, or use them for imaginative play (for example, the rocks were recently used for pieces of chocolate in a chocolate factory).
*
*
Tree Blocks
These Tree Blocks are made from real trees, and still have the bark on them and show the tree rings. These are my favorite blocks because they look so natural, and encourage more problem-solving skills than most blocks.
*
*
*
*
*
*
*
*
*
*
Fabric
These are fabric remnants (at least 1 yard) and curtain panels. Children use them with their block creations to make tents and houses, or as picnic blankets, as costumes, as a way to hide, and many other things.
Paper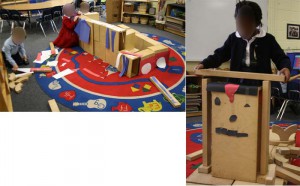 One day my students asked me if they could have construction paper in the block center. They used the paper to enhance a rocket ship they had built with the large hollow blocks. I decided to place a bucket of construction paper in the block center to see what they would create, and they came up with lots of creative ideas. The children brought tape and scissors from the art center as needed.
*
*
Block Idea Book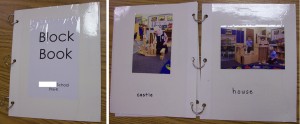 This is a book made with photos taken of the children's constructions at the block center. Children can look through the book for ideas of things they can build, or just look through it for good memories. It has photos of current students plus photos of children from previous years which are often siblings or cousins of my current students.
More Materials:
Wooden Trucks
Items Made by the Children
Small Wooden Cubes
Dollhouse Furniture and People
Astronauts and Space Shuttles
Construction Hats, Goggles, and Tools