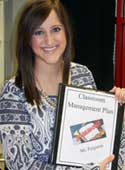 Jessica Ferguson knows how to impress. It is not with fancy clothes, smooth talking, or a strong handshake. It is in knowing what to do. Jessica went into her first job interview carrying a folder with her Classroom Management Plan. When asked what her strength was, she replied, "Classroom management. Here is a copy of my plan if you would like to review it. I will be happy to answer any questions."
The interviewing committee was so impressed. They asked if they could keep a copy of her plan for their records.
She left feeling she had nailed the interview.
The director of Human Resources called her six hours later to offer her her first teaching position. Why? Jessica had a very clear plan for what was going to take place in her classroom so her students could succeed....

By Todd R. Nelson
Oh, the burden of growing up with intrinsic motivation held aloft as virtue—before such a concept found modest traction in the education culture at large. But no—we had to be raised on Socratic values, on the conundrum of a question like, "If something isn't worth doing, is it worth doing …

By Teachers.Net Community
Things I won't miss: Disrespectful, spoiled kids; Teaching; Lesson plans; Lesson prep; Observations/evaluations; Early duty; Basketball/baseball gate; Grading papers; Countless hours of Unpaid/unappreciated overtime; Worthless inservice; Being forced to present a worthless inservice; PLC meetings; 20 minute lunches; IEP modifications; Sponsor duties; Handling discipline issues; Wishing for a snow day …

By Owen M. Griffith
Gratitude has empowered me to teach more effectively, appreciate my individual students, grow in my profession, and enjoy life. I am able to model one of the most important lessons in life, having a positive attitude, especially about the aspects of life that challenge me. In fact, last year I …

By Teachers.Net News Desk
The Scout Report, a fascinating, annotated collection of Internet resources issued weekly by The Internet Scout Research Group, is one of our favorite resources. Located in the Computer Sciences Department at the University of Wisconsin-Madison, The Internet Scout Research Group provides Internet publications and software to the research and education …

By Teachers.Net News Desk
Very few students from at-risk demographic groups—including ethnic minorities, English language learners, those from low-income families and those with disabilities—who start off "far off track" academically are able to get back on track by four years later, according to a policy report released on May 29, 2014 by ACT.

By Stewart Brekke
Usually, active shooter situations are often over in 10 to 15 minutes
before law enforcement arrives on the scene. Therefore, teachers and students must be prepared beforehand to deal with an active shooter situation. Students and teachers should be aware of some good practices needed to cope with a possible active …

By Barb Stutesman
A succulent collection of 31 pithy quotes for educators!