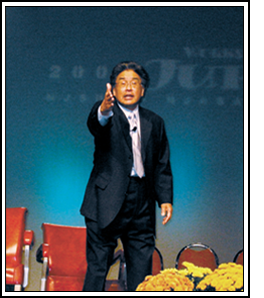 For 20 years the National Teachers Hall of Fame in Emporia, Kansas, has selected from hundreds of nominees, five practicing teachers from the United States who best exemplify its mission:
to recognize and honor exceptional career teachers, encourage excellence in teaching, and preserve the rich heritage of the teaching profession.
On June 15, the induction tradition will continue-with one slight exception. For the first time in its history, the National Teachers Hall of Fame will honor an educator with its Lifetime Achievement Award. Meet the recipient of that honor....

By Dré Cleveland
Andréa shares a personal story of the power of positive reinforcement starting from the home and connecting in the classroom.

By Leah Davies, M.Ed.
Parent involvement in schools has traditionally been carried out by mothers. Yet boys and girls need positive, male role models. When fathers take an active role in education, schools report an increase in student achievement.

By Marjan Glavac
Marjan Glavac has once again scoured the www and found five sites worthy of the attention of busy educators!

By Stewart Brekke
The environment in inner city schools can be so devastating to young students, especially those of color, that what appears to be bad teaching
and lack of student achievement is really an indicator of the amount of destruction the inner city environment can haveon bright, capable children.

By Teachers.Net News Desk
Two more suicides by students who were bullied by schoolmates…Where were the teachers and administrators while this stuff was going on?

By Steve Reifman
Think about the organized activities in which children participate. At band practice musicians understand why they need to rehearse. They know that practicing is important because at a later date the group will perform its songs to a live audience. The connection between today's preparation and tomorrow's performance is …

By Teachers.Net News Desk
The author says "Words cannot express the impact this assignment makes on the students' lives."

By Ron Victoria
Silly and serious special days – for June!