My Classroom Wall
By Humorist John P. Wood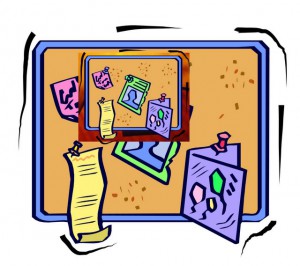 Everybody wants a piece of my classroom wall. Every time I go to a meeting, every time I go to a workshop, every time I read my mail, someone tells me about another important thing that I should have posted in my classroom.
It started with our school and district mission statements. I was told that laminated copies of each needed to adorn the walls of my classroom and that officials from the district office would check to see if I was in or out of compliance.
Then I was told that Howard Gardner's "Multiple Intelligences," were important, but that "Bloom's Taxonomy," was too. Then the Meyers-Briggs learning styles went up too. Then my principal told me that I had to have the state standards posted in my room. And she insisted that I post the benchmarks too. Then some outside expert told us that we all need to post our classroom rules and he told us how they should be posted.
Then my principal returned from a meeting and we were told to post our course maps and each of our individual unit maps and then she told us to post every rubric that we will use this year.
So, just to save time, I decided to go ahead and post everything I could think of and just get it over with. I posted my resume and three letters of recommendation for my present teaching job. I posted my contact information – including my home phone number and e-mail address – and I posted the best time to contact me. I posted the school calendar for the year with an outline of what we will be studying each week until the end of the year. I regularly post the school's daily announcements and each of my assignments.
I also posted the pages of our school's Rights and Responsibilities book and the school's course registration manual. I posted the school Internet policy and the rules for field trips. I added the school weapons policy and the one about harassment too. Then I just went ahead and posted every school district policy I could get my hands on. I posted the FAQs pages from the district website and the minutes from all of the school board meetings over the past ten years. I covered every square inch of my classroom walls.
And you know what? Out of all the interesting matter posted in my room, the students seem to notice only one item. They never ask me about anything else in the room. They only ask me about that one item, and they ask me about it frequently. It's a receipt from the store. I accidentally attached it to another piece of paper in a fit of staples and tape one crazy posting afternoon.
"Hey, Mr. Phillips, why do you shop at Target?"
"What kind of shampoo is it that you bought that day?"
"Can you take me to Target, Mr. Phillips, the next time you go?"
I thought about taking the receipt down, but it provides the only sign that students actually read what I post on the walls. And I'm hoping that it means that they are reading the rest of the stuff too. But, then again, maybe not.
"Hey, Mr. Phillips, when are you going to post your next receipt?"