psst…What's Hiding in Your Curriculum?
By Jennifer Davis Bowman Ed.D.
Tweet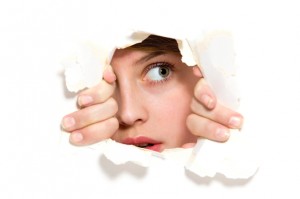 Do you remember the film "Starman" in which Jeff Bridges plays a being from another planet? There is a scene where he is in the car with the leading lady and observes her speeding through a yellow traffic light. Unsurprisingly, he learns to respond the same when he encounters a yellow light later in the film. There was no intricate lesson plan or core curriculum involved, but Jeff Bridges' character learned something from his environment nonetheless. Let's use this example to begin our exploration of the hidden curriculum-the learning that occurs as students are shaped by their environmental experiences.
A big part of understanding the hidden curriculum concept boils down to the word "hidden." First, let's focus only on this term.
It is necessary to debunk the idea of "out of sight, out of mind" when we think of the hidden curriculum. Although hidden implies that something is beneath or under the radar, this does not mean forgettable. Further, when we don't see things physically, this does not indicate insignificance. For example, think about all the important health risks associated with lead (most commonly found in paint and toys) BPA (material found in some baby bottles) or bacteria. In contrast, let's acknowledge the benefits of some of the things invisible from the naked eye-such as ultra violet light (detection of counterfeit bills, signals food on flowers for insects, sterilization of equipment).
After considering the value of hidden material, I wondered about its impact on my students. I decided to try an informal experiment to get a better idea.
Typically, I begin each of my classes with a question, thus a couple of weeks ago I asked my students to share (in writing) their thoughts on their learning outside of class work and homework. Below is a sample of their responses:
~"We were able to use all of our notes on a final test in high school. So that taught me how to stay organized."
~"In my chemistry class, you could sell a Cadillac converter for $80."
~"During a high school play, even if it's funny, it's known backstage to be quiet and nobody has to tell you…"
~"During the group activities I learned to come to an agreement without taking total control."
My student's responses spurred interest as to how other students would define their experience with the hidden curriculum. I soon discovered a student blog on hidden curriculum. There were various accounts on how the hidden curriculum provided insight about others. For example, I was fascinated to see what the students learned about teacher behavior (the students concluded that teachers could be more punitive-based than thought provoking). In addition, the hidden curriculum was a great resource in learning about their peer's needs. For instance, both physical survival lessons (such as when classmates ate large food portions at lunch because of the lack of food at home) and rules for academic survival (such as students storing items in classrooms because the school could not afford lockers) were imparted by peer behavior.
In addition to learning about others, the hidden curriculum provides self-awareness as well. I found a powerful article about a medical student's schooling experience that highlights the struggle of going against the rules dictated by the hidden curriculum. The student retells the process of confronting his feelings (conflict of instinct versus hidden curriculum expectations) as a necessary step in developing as a learner, a professional, and a member of society.
After a while, it occurred to me that the hidden curriculum's impact on students is huge. It varies with the culture of the learner (think again of the film "Starman" and how the adjustment to a new culture made him more prone to follow). It differs with the ability of the learner (or inability to pick up on environmental cues such as students with Autism, Attention Deficit Disorder, or those with cognitive-based learning disabilities). Further, teachers may need help in guiding students through the unwritten or unspoken rules for success in the classroom. Strategies such as the use of scripts to assist in getting the needed information, identifying a safe person to approach for help, and exploring commons idioms are all ways teachers can help.
I will conclude with an excerpt from a radio ad that allows us to hear the consequences of forgetting to address the hidden curriculum in our classrooms:
In Biology, I learned I'm fat, stupid.
In English, I learned I'm disgusting.
In Gym, I learned I'm a joke.
The only thing I didn't learn is why no one ever helps…
(To hear the complete radio ad please visit the Public Service Announcement Central Website.)
So, am I wrong about the impact of the hidden curriculum? The next time you develop a lesson plan for your students, why not take a second or two and consider the hidden learning that may accompany your lesson? Let me know what secret lessons are embedded within your classroom/school-and how your students successfully rise to the hidden curriculum challenge.
-Selected from the author's blog on the ASCD Edge Website
About the Author
Dr. Jennifer Davis Bowman serves as an adjunct professor for education and psychology courses in Ohio. To connect with her visit her blog or follow her on Pinterest.