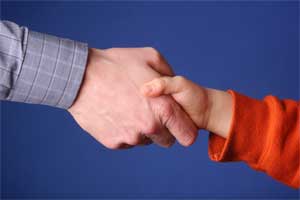 Teachers are loving people who come into the profession to make a difference in the lives of children. Their intentions are good, but when misbehavior occurs, some teachers will, out of sheer frustration, resort to making deals with the students just to survive...."

By Todd R. Nelson
My school of sixty kids lies smack dab in the middle of a thriving rural hunting culture. The majority of our 6-8th graders have licenses to kill a deer, and most will be successful. They have taken hunter safety courses to qualify, but they have also grown up with all …

By Julia Thompson
One of the most frustrating situations for any teacher occurs when seemingly capable students won't finish simple assignments or, even worse, won't even attempt assignments that appear to be even slightly challenging. Students who stop working at the first moment of perceived difficulty are even more perplexing because their lack …

By Susan Fitzell
I have about a dozen children in my Martial Arts class. When teaching them their martial arts forms, we do a continuous series of moves. I stand in front of them and do the forms while they follow along behind me. When they stand behind me and just do beautifully! …

By Dede Rittman
When you work with students in a capacity outside the regular classroom setting, you are permitted to see students in a whole new light.

By Teachers.Net Resources
Watch this page for updated links and lessons for January!

By Stewart Brekke
Many educators are advocating "high expectations" in the classroom in regards to behavior and academic work especially in minority schools. In my experience holding students to high expectations is a good idea, but the practicality of high expectations requires more than giving the minority students higher level work. Here's …

By Cheryl Hatch
Typically, instead of Arts VS Crafts, the title of an article like this would read Arts and Crafts.
However, the purpose of this article is twofold:
To identify the difference between an Art project and a Craft project (and there is a difference!).
To encourage …

By Teachers.Net News Desk
Activity has resumed on the Teachers.Net Booktalk Chatboard. People are sharing their favorite book titles and authors. Elaine wrote about The Wives of Los Alamos – A Novel

By Leah Davies, M.Ed.
If you decide to take a portfolio to an interview, make it compact and easily accessible. Your portfolio should be designed to demonstrate your teaching knowledge and skills. Be selective and include only examples of your best work. When asked questions such as: "Describe your greatest strength," "Tell us about …

By Teachers.Net Community
A member of a Teachers.Net mailring invites you to view her TED talk video. This talk was given at a local TEDx event, produced independently of the TED Conferences. A whirling dervish of energy and fervor, Janet Ivey is an educator who delivers a passionate invitation for educators and students …