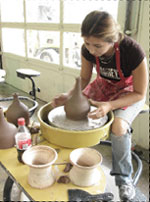 There are many steps or procedures to follow in order to make a ceramic piece functional. It starts with the foundation and consistency of the clay, while it is being thrown on the wheel. As the clay is spinning in the center of the wheel, you take control so that it doesn't wobble and then you put it into shape. It is crucial to know how to move your hands as you shape your piece, and you have to repeat the procedure to be successful.
Just as making a piece of pottery requires procedures, managing a classroom also demands them, too....

By Tim Walker
An American teacher working in the Finnish school system reveals surprising differences between math tests in the US and those given in Finland, a system praised for its successful school. What the Finnish tests tell us about American curriculum and teaching…

By Jim Knight
To change the future one day at a time, one child at a time requires tremendous energy and commitment. To teach is to do the same noble work of so many other great people committed to a brighter future. So it may seem strange to some that I write today …

By Steve Reifman
Last school year I started using a new strategy with my class, and because it has been working so effectively, I find myself referring to it frequently. I call this strategy "The Two Voices." This idea pertains to the situation in which students find themselves many times every day as …

By Teachers.Net Community
Topic: Using word banks on tests. Please add your input in the Comments section following these posts.

By Marjan Glavac
Each month the Busy Educator, Marjan Glavac combs the www for 5 sites worthy of your attention.

By Teachers.Net Resources
Jan Brett's The Mitten, hibernation, bears, penguins, snowmen, groundhogs! Oh my! Here are some of the best winter theme lessons from the Teachers.Net Lesson Plan Bank.

By Teachers.Net News Desk
From children's author Artie Knapp & illustrator Sunayana Nair Kanjilal, comes a new picture book that answers the question that kids everywhere like to ask… I am bored. What should I do?

By Paul Condello
Elementary students of all ages are notably interested in book discussion groups. Students enjoy communicating thoughts about storylines, characters and their favorite parts of a book. Book groups enable students to understand books from different angles through sharing.

By James Wayne
Jim Wayne's popular writing prompts will get students off to a good start as writers in the new year!

By Teachers.Net News Desk
What have we learned about the universe over the past four centuries? Visions of the Universe asks just that, looking deep into the past to bring a bit of this history to the general public.

By Stewart Brekke
A former Chicago Public high school teacher offers his anecdotes and opinions about school violence

By Ron Victoria
January is full of serious and fanciful events you'll want to share on your network in and the school faculty room!