The Jigsaw Classroom: A Cooperative Learning Technique Decreases Racial Conflict
By Internet Scout Report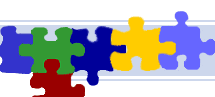 The Jigsaw Classroom: A Cooperative Learning Technique
The Jigsaw Classroom, developed by University of California-Santa Cruz professor Elliot Aronson, and tested repeatedly over the past three decades, seeks to decrease racial conflict among students and simultaneously promote better learning. How?
Put simply, students are split into small groups. Each student in the group researches a particular aspect of a topic, then students come together and present their research to one another.
The effect is that each member of the group is dependent on the others and must listen carefully in order to learn the material. Explore the website by category to learn more about this approach.
Categories include Overview of the Technique, History of the Jigsaw Classroom, Jigsaw in 10 Easy Steps, Tips on Implementation, Books and Articles, and others.
From The Scout Report, Copyright Internet Scout 1994-2014. https://www.scout.wisc.edu