The Side Effects of Standardized Testing
By Howard Seeman, Ph.D.
Tweet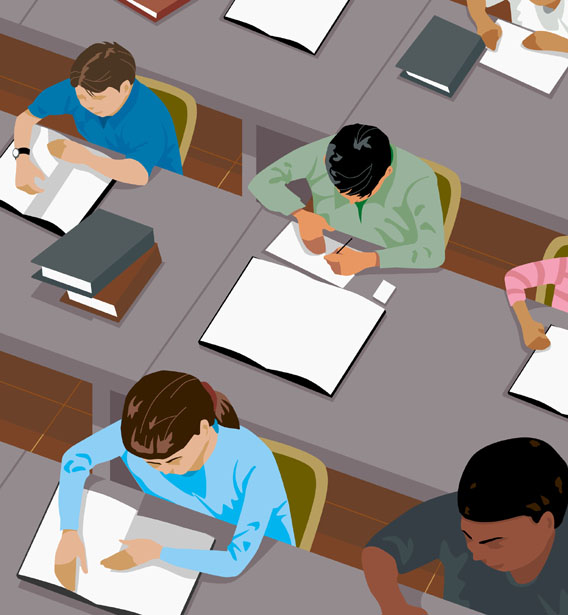 Proponents of using standardized tests are pushing these as if they are good "medicine" for the delivery of a better education for our students. "Standardized testing has become central to education policy in the United States. After dramatically expanding in the wake of the No Child Left Behind Act, testing has been further enshrined by the Obama administration's $3.4 billion "Race to the Top" grants."  [Truthout (http://www.truth-out.org), The Loneliness of the Long-Distance Test Scorer, Dan DiMaggio, 12/1 /2010.]
This push of standardized tests not only receives funding from the federal government, but from billionaire private sources: the Gates-Broad-Walton triumvirate, Ford, Hewlett, Annenberg, Milken, to name just a few – to decide: funding charter schools, merit pay, firing teachers and  closing schools. But, besides using these tests, private foundations should not be setting public policy! Also, these measures often have 20 to 30 percent error rates. ["Who's Bashing Teachers and Public Schools and What Can We Do About It?" Stan Karp, Spring 2011, Rethinking Schools.]
Standardized tests are not a valid measure of a good education. Instead, they usually just predict future school success, which is a tautological begging of the question about "a good education". And besides: standardized testing has many "side effects" harmful to our children, teachers, administrators, schools, and our whole society. Let me explain.
Standardized tests do not test whether our students are getting a good education.
A good education is, and was supposed to be [as Socrates wisely taught] for living the "good life" before we die; and as W.E.B. Du Bois rightly prescribes: for learning to be a valuable citizen of society. [Du Bois, W.E.B., The Souls of Black Folk (Boston: Bedford Books, 1903.]
But, we have redoubled our effort while we have lost sight of these goals. Instead, our goals are: better cognition, objective descriptions, calculating, deducing, counting, compiling facts, predicting, to control things, to have more material wealth, , to be more efficient at all of these, faster and faster. However, though the "good life" and being "a valuable citizen" needs some of these, emphasis on these is not only insufficient for these goals but takes us off track to achieve the other abilities necessary:
*How to better identify and constructively deal with emotions, anger, stress
*Non-verbal communications, intention
*Distinguishing facts from feelings/values
*Detecting fallacious thinking
*Asserting oneself constructively
*How to make supportive, lasting relationships
*Using imagination, creativity, intuition, the aesthetic sense for the arts
*Increasing empathy and tolerance
*Detecting our own prejudices, biases
*Learning ethical reflection
*Improving listening skills, the neglected other half of effective communication
*Negotiating
*Understanding the value of diversity in our culture, and other points of view
*Treating others as ends not means
*Resisting immediate material gratification- not only in our diets, but in how we use the resources of our planet
*The facilitating  humor
*The whole right side of our brains!
Standardized tests do not, cannot, measure the above essential learnings. They measure what is measurable. Or worse, if not measurable prime facie, they bastardize/reduce these to be measurable/quantifiable numbers, e.g. scoring student essays. As a result, only the "measurable" is counted. And, if it is not "measurable", it does not count, is not supported by these tests to be placed into the curriculum, is not taught by teachers, [e.g., music, art, emotional education]. Then, these non-measurables are not used to train, evaluate, hire or fire teachers, do not count for most funding sources – bankrupting schools that are not teaching the measurable. Thereby, our society's institutions of transfer of learning, schools, only bolster the transfer of learning of one side of our brains.
Standardized tests can't measure: initiative, creativity, imagination, curiosity, effort, irony, affective judgment, commitment, nuance, good will, ethical reflection – a host of other valuable dispositions. What they can measure and count are isolated skills, specific facts and functions, the least interesting and least significant aspects of learning.[Alfie Kohn, The Case Against Standardized Testing: Raising The Scores, Ruining The Schools (Portsmouth, NH: Heinemann, 2000), p.11.] Instead, they encourage storing information in our heads, an outmoded skill – when in many areas, computers can store this information with also the needed accessibility. [Marion Brady, "Unanswered Questions About Standardized Tests", The Washington Post 27 April 2011.]
Also, "…in inner-city schools, testing anxiety not only consumes about a third of the year, … every minute of the school day… to be directed to a specifically stated test-related skill. Very little art is allowed into these classrooms; little social studies, really none of the humanities. ." [Truthout, 12/1/2010]
Also, these tests de-motivate risk-taking. [Collins and Halverson, Rethinking Education in the Age of Technology, Teachers College Press, 2009, p. 120.]  A student is pressured to look for and give the "right answer" on both the test and in class. S/he is not given time or encouragement to think off "track"; the pressure and approval given is to stay on "track" to score the best answers. Such promotes a culture of conformity.
Also, the pressures of standardized testing is a major cause of losing some of our best teachers: "By measuring the success of teachers almost exclusively by the test scores of their pupils, it has rewarded the most robotic teachers, and it's driving out precisely those contagiously exciting teachers…so hard to recruit….  As Einstein put it, "It is a miracle that curiosity survives formal education."[Ibid.]
And, to make matters worse, the language in these tests often reflect an elitist, racist/white [pg 2]