Math Stations Using Plastic Eggs!
By Heidi Samuelson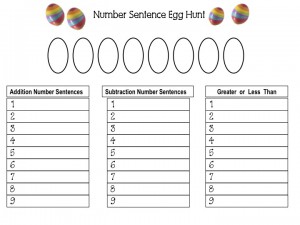 Hop on By The Swamp to Learn More About:
It's that time of year when I start seeing plastic eggs in every store and reminisce about the days when I would buy a ton of them for my son's Easter Egg Hunts.  He's a little old for that now, but I still can't walk into a store without buying a dozen of the plastic things!  Go figure!
With my focus on Math Stations this year, I've come up with a couple of ideas to use these wonderful snap apart objects in my room.
I painted numbers on some decorator glass rocks for the first idea.  I used the numbers 0-9.  Each egg then got a number rock inside and is put into a cute Easter Basket or tub.  The idea is similar to the iPhone app "Chicktionary".  But instead of using 7 letters to make as many words as they can, the kids will "hatch" the eggs and create as many number sentences with the numbers they find in 7 eggs.  I have a worksheet (pictured above) on my blog for you to download that will go great with this idea.
The second idea I have is to paint numbers on the outside of the eggs and put two number glass rocks inside each egg.  The eggs are stored in an egg carton.  The idea is the kids "hatch" an egg with a number and then use the numbered rocks inside to create a number sentence on their recording sheet.  They could do addition sentences as well as subtraction sentences, but they can only use the numbers on the rocks inside the numbered plastic egg.
Download the lesson worksheets and more ideas on my blog:  http://swampfrogfirstgraders.blogspot.com/
Hop on by anytime!  I'm looking forward to sharing more ideas with you!