Transform Envelopes into "iPods" to Store Math Flashcards
By Heidi Samuelson
Kids Make "iPods" for Doubles Fact Practice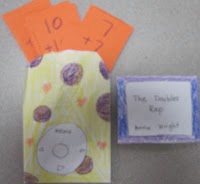 I helped my first graders transform a business  sized envelope into an iPod to store homemade  flashcards [in this case] to review doubles facts for addition.
My blog is called Swamp Frog First Graders…hop on by The Swamp to learn more about business envelope transformations!
Automaticity is the big "Buzz Word" in my math life at the moment.  I want to get my kids to fluently recall math facts so they can perform the harder tasks that are ahead.  Music motivates my students to learn things and makes it an enjoyable process.  They also LOVE to create something as they are learning!
A teacher in my school shared a cute rap song titled "The Doubles Rap" with me.  She thought it might help the kids memorize doubles facts for addition.  My class turned a business envelope into an iPod Storage Case for the double flash cards we were creating.  My original idea was for the kids to make flash cards to go with the song and store them in an envelope.  But as we were reviewing the song and singing the words with the cards, I thought it would be so much more fun to "download" the facts into their own iPod!
We used a regular business sized envelope to create our iPods. I had the kids fold a 9X12 piece of construction paper and cut it apart for the flash cards.  You could also use index cards cut in half for flashcard creations.
To make the iPod from the envelope follow these directions: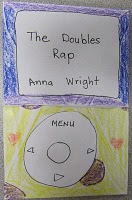 First have the kids lick and stick the envelope flap.  (Their faces and expressions are priceless!)  Next, have them fold the envelope top down about a third of the way.  Cut across the line you just created with the folding.  On the smaller portion of the envelope, draw the iPod window and write the title of the song:  "The Doubles Rap" and the author (which would be their name.)  On the larger portion of the envelope guide them in drawing the clicker wheel with the words menu and the arrows for moving from song to song and play.
Now they are ready to add a special "skin" to their creation to make it unique!  To download the song to the iPod, we sang the song and added a card after each verse.  I also gave them a smaller copy of the chart that has the song on it to store in their iPods so they could practice at home as well.
Download of the song as well as a video of how to create the iPod from an envelope are available on my blog:  Swamp Frog First Graders.
Hop on by anytime!  I'm looking forward to sharing more ideas with you!