HomoPHONEs – Make "Phone" Storage from Envelope
By Heidi Samuelson
From Heidi's site, Hop on By The Swamp, another Business Envelope Transformation!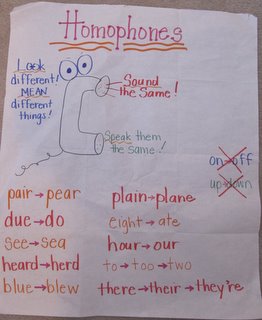 Homophones are words that sound the same, but are spelled differently and mean different things. To help my students understand these words with ease, I created the homoPHONE storage envelope.
Now when we see some homophones, we grab our phones and store them into the memory so we won't forget them any time soon!
Making your own homoPHONES is affordable, easy, and fun!
*
*
*
*
*

How To Turn an Envelope into a HomoPHONE
Take a business sized white envelope. Lick the flap and stick. YUM!!
Fold the top fourth of the envelope down to make a line. Cut the envelope apart at this line.
On the larger section of the envelope, cut the open end with two slants so that the top of the envelope will slip on and off easily. Now, you're ready to design your phones!
On the top fourth of the envelope: color, cut, and glue the word holder for the homoPHONE.
On the bottom three-fourths of the envelope: color, cut, and glue the key board.
Use a book about homophones to introduce and discuss words that are homophones. My favorite is Dear, Deer: A Book of Homophones by Gene Barretta.
As you come to words that are homophones, add the words to the chart. Don't forget to add some words that are not examples as comparison and contrasting is so important in gathering information about a skill.
Have the kids use index cards folded in half to add homophone words to their phones. Write a homophone on each side of the index card. Illustrate the word and use in a sentence if you like. Store these cards in your homoPHONE.
Download the lesson as well as the key boards to use for your phones on my website:
http://oakes.scsk12.org/%7Esamuelsonh/Swamp_Frogs/ELA_Standards_Workshop.html
Also: Transform envelopes into iPods for math flash card storage!
Hop on by anytime! I'm looking forward to sharing more ideas with you!
Heidi Samuelson