Guided Reading With Pre-Readers
By Heidi Butkus
VERY simple story with repetitive, predictable text that they should have now heard three times.
So they should mostly have the story memorized at this point.
I turn my book around so that if they are looking at it, it is turned the correct direction from them.
I just look over the top of my book and read it upside down as I model how to track each word.
7.  As we read, I try to teach them to track (touch) each word, going from left to right.
We talk about the return sweep (going from the end of one line at the right side of the page to the next line below it on the left.)  I teach them about word boundaries, and we count the words and sentences on many of the pages.   There is usually not enough time to count the words and sentences on every page.  Children that do not recognize word boundaries often have no idea which word to point to, and make quick left/right motions with their hands as they pretend to point to the words and read the sentence.  When children track words on a page as they are learning to read, they are starting to connect letters and words to sounds; this is incredibly important for them on their journey to become real readers.
8.  If your kids know any sight words or any other words, then I would look for those sight words on every page.  If you are working on a printable book, then consider letting them find and color those certain words.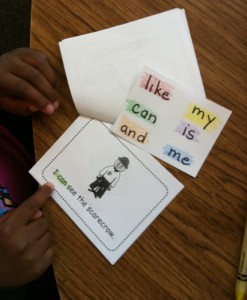 This "Fall Book" is a free download on my blog here.  You can also find instructions in this blog post on how I use it to help children find, read, and color the sight words we are learning.  It's very effective!
9.  Be sure to ask questions about what is happening in the story as you go along and when you are finished reading it.  You don't want to forget to address comprehension! 
Make sure that you ask them their opinion of the story when you are done, too.
10.  Once we have done all of this together, I let them read the story by themselves, and then read it to the person sitting next to them, if there is still time.
11.  Ideally, I think it is best if the children can take the book home to read it to their parents as well, but not every teacher has a lending library! 
Paper copies of the books, though, are sometimes possible to give to children.  Just make sure that you include the reading of the book to their parents in your homework assignments.  Some parents might not think about asking their children to read the little books their kids bring home, and it's a good reminder to them to listen to their children read ask questions about the text.
My students make their own book based on the "Round is a Pancake" book by Joan Sullivan Baranski at the beginning of the year.  Then we learn to read it!  
As your students learn the different strategies for reading, you may want to add each of them to a poster or something like that, especially if your administration is looking for "proof" or evidence on the walls that this type of instruction is happening.  For more info on reading strategies that work especially well with young children, check out Vanessa Levin's Pre-K Pages blog post on Reading Strategies. 
Here are some of the guided reading strategies that I find are used most often by primary teachers.
Strategies to Use When Children Come to an Unknown Word
1.  Sound it out.
2.  Look for picture clues.
3.  Skip it.
4.  Look for chunks.
5.  After you've tried to read a word, ask yourself, "Does this make sense?"
If you don't have a set of "predictable books" that you could use, you might consider having the kids make their own "Singable Book." We have these projects on our website, such as the Shape Book on the Printable Projects CD-Rom, with the music on Little Songs for Language Arts DVD and CD . They work on the book one page a day as an art project, and each day, as I demonstrate how to do the book, we sing the little song. By the time they are done, they already know it. Then we spend one day doing guided reading on it when the books are all completed. The biggest issue is that anyone who is absent will need to make up that page, because everyone has to complete every single page, no matter what- or you can't do that guided reading lesson with them all. (On the other hand, I do keep extra teacher samples on hand from previous years, so that if I wind up with a kid that didn't quite finish a page, I can hand him or her my book to use for the moment.)
We are now making our "Shape Song" books and will learn to read them soon.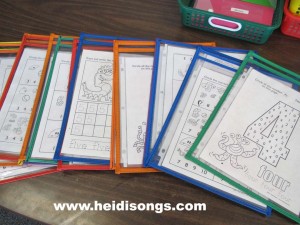 Guided Reading is generally done in small groups, which means that you will need something to keep the rest of your students busy by themselves while you work with a few of them.  If you don't have any little literacy center activities ready to go, then you can do the Daily Five while your kids are in groups. BUT, you can also do a combination of Daily Five things and literacy centers. OR, you can even take the easy route and do some worksheets while you prepare literacy centers and build up your supply of literacy centers, little by little. It's not so bad, if you know that you can fall back on some worksheet-y types of things when you don't have anything better available. I think that the very easiest thing to do is put those worksheets into page protectors and give the kids dry erase markers. You can put out a whole bunch of them and let your high kids really do as many of them as they like! I have to say that the top half of my kids absolutely finish ONE and then save it, and bring it to show me when they are done. If they "forget" and erase it, then they can complete it later at playtime. (Oops!) Once we have been through that, it usually doesn't happen twice! (But if it does, then that child always gets paper and pencil.) I know that worksheets are NOT developmentally appropriate, and are not the best way to learn. BUT- as a matter of survival for a teacher that has no better alternative prepared, it will have to do. Plus, if you put them in page protectors and then erase them, you barely have to copy a thing, and you won't have to correct ANYTHING!
There are several sight words worksheet books on my website that I developed for this purpose, and we are working on a new set now with hidden sight words in them!  (I also use them regularly for homework.)  There are WAY more worksheets that anyone would ever want to give their kids, but what I do is put them in page protectors and let the kids go!  We do them about once a week that way, usually. I also give them to my high kids if they finish a task early or master a skill really early on, and don't need to do a lesson. I prefer to give them an iPad, but if the iPads are being used for some other lesson, then it's good to have an alternative.  (Click here for a downloadable list of my very FAVORITE apps for PreK, K, and First Grade children.)
Ideally, it's best to leave a copy of the books that your kids learned to read in a reading center so that they can go back to them often and re-read them.
But since I send my books home with the children as part of their reading homework, I usually need to keep careful track of every single one of them, so I generally do not have enough copies to put an extra in our reading center.
Later in the year, I try to remember to get them out and let them read the books again for fun and practice.
We often also give the children Accelerated Reader tests on the books that they have learned to read in my Guided Reading groups, too.
If there is not an existing test, then I can always write my own!
Here are some more blogs that also focus on Kindergarten readiness.  [From the editor: A printable guide to Guided Reading levels by Jennifer Goldstein]

About the author
Heidi is a credentialed Reading Specialist with over 25 years experience in the Primary classroom. After years of developing her own curriculum, Heidi's peers urged her to present this material at the California Kindergarten Conference, which generated an overwhelming response to publish her program. Heidi says, "I have since grown this basic curriculum into the 'HeidiSongs' product line and website, which now includes both music and videos, plus presentations and keynotes nationwide."
MORE!
Guided Reading in Kindergarten – Printable guide! Kindergarten teacher Jennifer Goldstein generously offers her guide to the various guided levels commonly seen among. Includes PRINTABLE version!