Guided Reading With Pre-Readers
By Heidi Butkus
Doing guided reading with emergent readers (children who are not yet really reading) is not hard once you have a few tricks up your sleeve.
I have always done guided reading groups in Kindergarten, whether or not my students were able to actually "read" in the technical sense.
There are many vital skills that emergent readers can learn from a lesson in guided reading, too!
You are probably already doing many of these things with your students already, and just didn't know that these things could actually fall under the umbrella of a guided reading lesson.
The first thing to do is to find a set of books that are predictable and easy to read, and use those for your lesson.  What you really want your students to do is to go through the motions of being readers, even though they are really just pretending. Many of these books can be printed off the internet without purchasing a thing, just like the one in the picture below.  You can download it here.

This is an example of a printable emergent reader from HeidiSongs.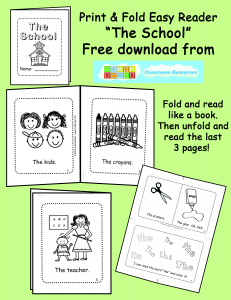 Some other examples of some predictable books that could be used would be Mrs. Wishy Washy by Joy Cowley and Brown Bear, Brown Bear by Bill Martin, Jr.  Here is a picture of some other books that we have in our classroom that we use for guided reading with our students that cannot yet really read.
Emergent readers are patterned books with easy, predictable text.
Books that work well for a guided reading lesson for emergent readers tend to be so easy that young children can usually listen to them once, and then they could probably just about "read them" themselves!  Of course, they really have them memorized, but that doesn't matter much.  They are still learning about how print works as they pretend to read the books.
Repetition like this is good for kids because it helps kids develop their memory, and helps them learn to predict events in a story.  Pausing to ask children what they think is going to happen next is a great thing to do in stories, even simple stories like this, and increases their confidence as readers!  You can also do sequencing activities with stories like this if you can find simple pictures of the stories, or if you have some extra copies of the book.  Just take the book apart and use the pages as pictures.  Have the children put them back in order, using the words first, second, third, last, etc.  All of these activities are great for building language and communication skills for little ones.  And using non-fiction books, is an especially good way to build children's background knowledge base too.
This is what I usually do when I teach a Guided Reading group to emergent readers.
1.  Read the book aloud to the children.
2.  Read the book aloud again, leaving out certain words as you go along.
Tell them that you are going to leave out some words as you read, and they are going to look at the pictures and see if they can guess what word it is.  As you touch those words, just don't say them and then have the children try to predict what words they are.
3.  Now read it again, covering up the pictures as you go along.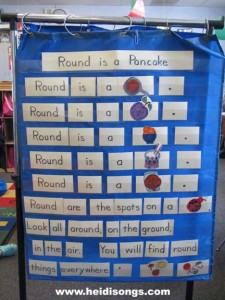 Or even better, switch to reading off of a pocket chart if you can.  Tell the children that as you read, you are going to let them guess the missing words, but this time they will use the first letters of the words as a clue to figure out the missing word.  Taking the words off of the pocket chart and rebuilding the story is another great extension to this lesson, but that would probably need to be done on another day.  We used to do this a lot with the words to the book "Round Is a Pancake" and "Rosie's Walk" by Pat Hutchins.
These are the words to the book, Round Is a Pancake.
4.  Then pass out your student books and review the parts of the book with your group. 
I always first show them mine, and then have them touch theirs, repeating the name of the part of the book.  We include the following items:  front cover, back cover, title, title page, author & illustrator (and their jobs.)  Sometimes I reference the picture cards in the Concepts of Print Bingo game for the kids so that they will be ready to play the game as a review on another day.
5.  Have the children count the words in the title, and then count the letters in the title.
Then we read the title together, and then turn to the title page and read it again.
Then we turn to where the story begins, and turn the page.
I tell the children to all put their finger up in the air and hold it there when they have got the page turned and are ready.
Once everyone has gotten that page turned, then we are ready to begin.
6.  When I say, "Ready, read," then the children all try to read the first sentence together with me, as best they can remember it, pointing to each word as we go along. 
Remember, most (if not all) of the children really can't read at all, but we are talking about a