Standards, Assessments and Rubrics – Oh My!
By Hal Portner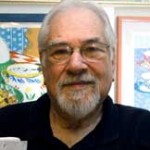 With the beginning of a new school year come real concerns about school policies, classroom management, supplies, equipment … and on and on.  Ultimately, of course, we must answer the following questions that really define the purpose of our job as educators:
What do we want students to learn? How will we know whether they've learned what we want them to? To what extent can and will they apply what they've learned? And why should we want to know all this?
Before we can answer these compelling questions, we first need to describe what we want students to learn and be able to do.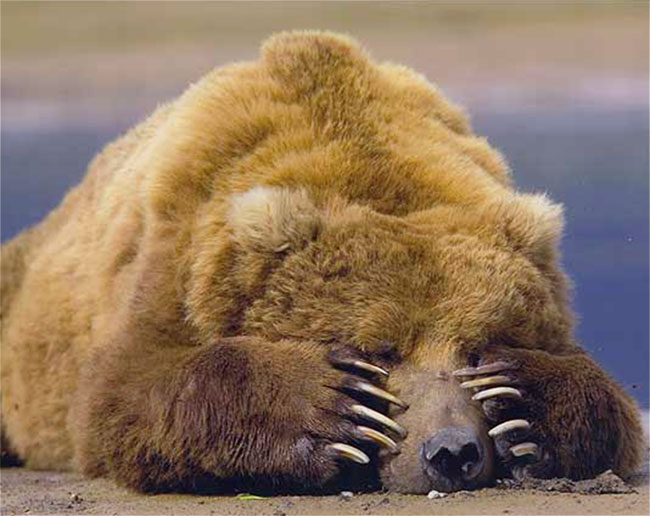 Standards
Standards establish high expectations and provide markers for student achievement. Standards challenge us to articulate what we want students to know and be able to do. They determine what specific aspects of learning and doing we want to measure, and help us define the developmental stages by which we can assess progress and determine grades.
What do standards look like? Here are a set of "Standards for Standards" (adapted from Creating a New Vision for Public Education in Texas (2008) Texas Association of School Administrators/Texas Leadership Center, Austin, TX)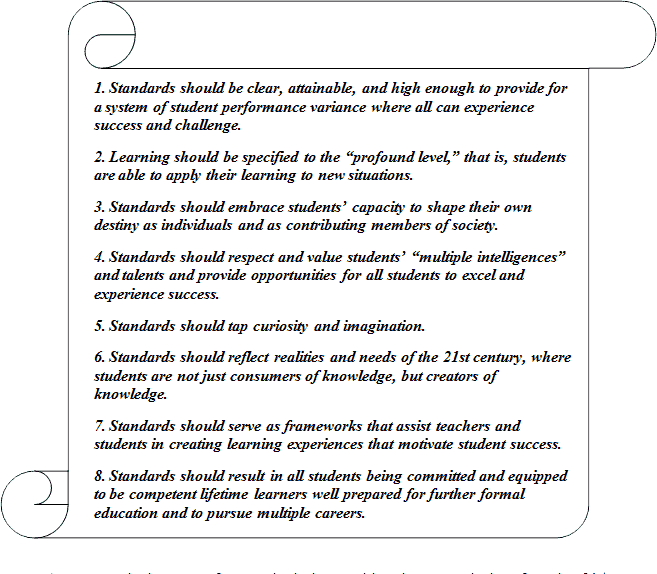 As an example, here are a few standards that would apply to a curriculum featuring 21st century skills. I have purposely kept these standards simple and defined them in broad yet challenging terms in order to allow for flexibility in their application.
Communicating Students convey information, describe process, and express ideas in accurate, engaging, and understandable ways.
Researching Students identify and access a variety of resources through which they retrieve and organize data they have determined to be authentic and potentially relevant to their task.
Thinking Critically Students use structured methods to weigh the relevance and impact of their decisions and actions against desired outcomes and adjust accordingly.
Thinking Creatively Students comprehend and employ principles of creative and productive problem solving to understand and mitigate real-world problems.
Keep in mind, however, that standards don't prepare students for anything. They are a framework of expectations and educational objectives. Without the organization and processes to achieve them, they are worthless.
Student Assessment
As the standards are being applied, the teacher and the students need to continuously monitor progress and adjust teaching and learning accordingly. We determine progress by assessing the extent to which students are learning and constructing knowledge and how they are applying that knowledge. We gauge progress by collecting and analyzing data. The question is, what data do we collect, and how?  We can collect data by testing for knowledge and understanding, and by observing performance and behavior.
W. James Popham contends that the data collected must be instructionally beneficial (Using Data to Improve Student Achievement, Educational Leadership, February 2003 Volume 60 Number 5 Pages 48-51). Instructionally beneficial data can only come from instructionally useful assessments. Popham identifies five attributes of an instructionally useful assessment.
Significance An instructionally useful assessment measures students' attainment of a worthwhile curricular aim—for instance, a high-level cognitive skill or a substantial body of important knowledge.
Teachability An instructionally useful assessment measures something teachable. Teachability means that most teachers, if they deliver reasonably effective instruction aimed at the assessment's targets, can get most of their students to master what the test measures.
Describability A useful assessment provides or is directly based on sufficiently clear descriptions of the skills and knowledge it measures so that teachers can design properly focused instructional activities.
Reportability An instructionally useful assessment yields results at a specific enough level to inform teachers about the effectiveness of the instruction they provide.
Nonintrusiveness In clear recognition that testing time takes away from teaching time, an instructionally useful assessment shouldn't take too long to administer—it should not intrude excessively on instructional activities.

Performance Assessment
If assessments of 21st-century skills are to be instructionally beneficial, those assessments need to require students to demonstrate what they know and can do. Performance assessment asks students to perform real tasks under real world conditions. What better measure of understanding than actual execution?
Performance assessment allows for immediate feedback and unlike standardized tests allows for checking for deeper understanding. Performance assessment recognizes that students with wide varieties of learning styles can act and interact in various ways and still be effective. Performance assessments allow for the measurement of advanced skills such as the ability to construct new knowledge and to apply knowledge in a variety of contexts.
Performance based assessment is a standards based approach that lends itself to differentiated instruction and learning styles. Students who have used different materials and received different levels of support still have the opportunity to demonstrate their mastery and meet the standards. This makes it possible for all students to demonstrate mastery.
A portfolio is one way students can demonstrate what they know and can do. A portfolio can consist of written materials, computer files, audio and video items, sketches, drawings, models or pictures. The portfolio reflects what pupils have learned, how they question, analyze, synthesize, solve problems, and create new ideas. The portfolio shows also how pupils interact intellectually, emotionally and socially with others.
A scale for assessing pupils' creative thinking through their portfolios was developed by Barak and Doppelt (Barak, M., Waks, S. & Doppelt, Y. (2000). Majoring in technology studies at high school and fostering learning. Learning Environment Research, 3, 135-158.). Figure 1 is an adaptation of The Barak and Doppelt Creative Thinking Scale.
Rubrics
A rubric is an explicit summary of standard-based criteria for assessing a particular aspect of a student's work. Because it describes levels of potential achievement for each criterion, and applies the same criteria to each student's work on that same activity, a rubric provides data upon which the teacher can adjust or modify instruction to "raise the bar" for individuals as well as groups of students.
Rubrics also provide an equitable scale for assigning student grades. Barnswell contends that "[m]ost students will want to learn if they are presented with engaging and exciting learning environments and experiences. At the least, I've found that more students are motivated to learn when presented with authentic, stimulating learning climates than by the threat-reward bargain of grades. Research shows us that the human brain is wired to enjoy discovery and novel ideas, experiences, and situations. If we focused more on creating ideal learning climates, grades could slowly be pushed aside, and we could concentrate more on the kind of constructive feedback that spurs more student growth. Unfortunately, the pressure of grade competition and comparison is ingrained in our system." (Barnwell, P. Could Standard Grading Practices Be Counterproductive? Education Week, Published Online: June 30, 2008)
A rubric can be constructed in a variety of formats. It can describe stages of development and accomplishment in simple or complex terms. However a rubric is constructed, ultimately is must clearly establish a progression of performance-based accomplishment that reflect the standards and define their dimensions.
The developmental stages in Figure 2, an example of a rubric, are:
Not Yet Evident: The student is discovering style preferences and strengths.
Emerging: The student is building strengths.
Expressing: The student is constructively applying strengths.
Excelling: The student is extending to reach higher levels.
The following rubric example is for illustrative purposes, and the attributes in the cells are only samples. Constructors of actual rubrics might want to use other terms or numbers for developmental stages and employ attributes specific to their program's performance-based objectives.
Assessing for creativity based on performance and behavior
Creative performances can be evaluated in terms of how novel they are (originality), how good they are (quality), and how involved the students are in the process (behavior). Figure 3 is an example of a rubric for assessing these aspects of creative performance.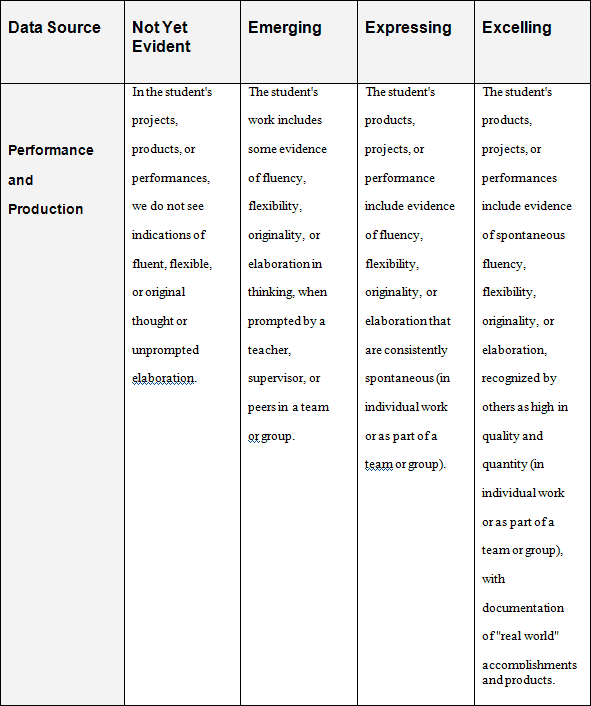 We can also assess students' performance and behavior in terms of how they apply the Creative Problem Solving process. One way to carry out such an assessment is through the use of an instrument such as Treffinger's CPS Project Checklist (Treffinger, D. (2000). Assessing CPS Performance, 3rd ed. Waco, TX: Prufrock Press.). This is a useful devise because it asks both the student and the teacher, using a Likert scale, to independently rate creative performance or behavior against a range of problem solving criteria. This creates the opportunity to compare and discuss students' self-ratings with the teacher's judgments.
Another, more subjective way to assess creative performance and behavior is to gather data about out-of-school applications of Creative Problem Solving in the home or work setting, as perceived by the parent or employer. This can be done informally through conversation, email or written survey. Teachers are advised to consider using such a process judicially and with sensitively, given the potential diversity of family and workplace dynamics.
Using Assessment Data to Improve Learning
Assessment is about improving, not proving.
Rubrics delineate the criteria. But they are not just a way for teachers to assess student work. Students benefit by seeing the rubrics when they start the program and deploying them as tools to both self-appraise their work in progress and direct their own learning.
Most schools give students a single grade for a course, often losing important data about their skills and abilities. At New Tech High School in Napa, California, by contrast, the grade report shows separate grades for content, critical thinking, written communication, oral communication, technology literacy, and other appropriate Learning Outcomes. At New Tech, the grade book is online, accessible to students, their parents, and teachers with a password, and it is a living document — updated whenever new information is available. Students thus remain constantly aware of their strengths and weaknesses and can target their efforts toward improvement. This continuous feedback is critical in helping students become self-directed learners.
Once you have identified and clarified a student's developmental stage in a particular standards-based dimension, you are ready to use the data to improve student learning and performance. Begin by determining your student's motivation and capacity to improve. In general, the less willingness or confidence your student exhibits, the more you need to use reinforcing behaviors. The less knowledge, understanding, and skill your student exhibits, the more you need to structure your coaching strategies.
Coaching Strategies
Your goal as a coach is to boost student learning and performance to the next level. The athletic coach does this by using every opportunity to raise the bar; that is, when the athlete can perform at a particular level of ability, the coach sets a higher standard and challenges the athlete to meet it. The teacher also coaches by raising the bar.
When a student is at the 'Not Yet Evident' or 'Emerging' developmental stage, a "show-and-tell" style of coaching is called for. "This is what to do," you tell the student, "and here is how to do it." Show enthusiasm for the content and for learning. Assign the student pertinent material to read or to access, and specify details on which to focus. If appropriate, arrange for the student to "consult" with another student who does grasp the material. Set short-term, realistic goals. For example, tell the student to apply what you suggest for the next 3 days, after which you will meet to discuss what happened and what to do next.
Your coaching strategy when the student is determined to have developed to the 'Expressing' stage is to ask him probing, open-ended questions, such as, "What do you think your team can do to be more productive?" This is also an opportunity for you both to discuss alternative strategies and to discuss possible resources. When you and the student have agreed on a particular new approach, encourage him to try it out and see what happens and to meet with him afterward to discuss and fine-tune the outcome. As the student becomes more competent and approaches the "Excelling" stage, you gradually offer less direction and encourage him to try out and evaluate his own ideas. You continue to monitor, of course, while letting him know that you are interested in what he is doing.
Reinforcing Strategies
You need to strengthen and support a student's willingness and motivation to apply your coaching. You cannot "motivate" someone else. Motivation is self-constructed. The extent to which a student is willing to take some action is influenced by what he or she perceives as important and by what he or she believes can be accomplished. You do this by increasing expectations of success and encouraging a sense of responsibility. These strategies are especially important because they are germane to helping a student become a motivated learner. Acknowledge the student's efforts and validate his ideas. Be honest and specific. You can also provide support by defusing any unjust comments from others.
Listen to your student's ideas. Let him know you are paying attention. Do this through the use of body language and by paraphrasing back to him what you understood him to have said or done. Recognize your student's successes by commending his initiative and citing any specific improvement in his learning or performance. Offer to provide feedback on other ideas he might have.
As you apply these coaching and reinforcing strategies, you monitor your student's progress, and vary your behaviors accordingly. Ultimately, the goal of coaching and reinforcing is to wean your student away from relying on you for direction and suggestions. You will know you have achieved this goal when your students demonstrate the willingness and ability to make informed decisions; to act on those decisions with confidence; to reflect on the effectiveness of their actions; and to modify procedures based on thoughtful analysis of accurate data.
So now you have answers to the questions I asked at the beginning of this article. Standards define what we want students to learn. Assessments tell us whether they've learned what we want them to. Rubrics clue us in to what extent they can and will apply what they've learned. And as educators who care about their students' learning, it's clear why we should want to know all this.
© 2009 Hal Portner