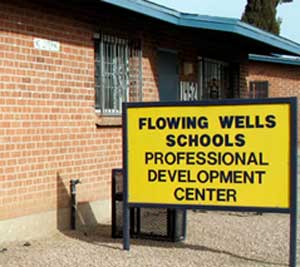 Teachers want training; they want to fit in; they want to do their best; and they want their students to achieve. For the most part, education has failed to recognize what other industries have recognized almost from the start-formalized, sustained training matters.
Flowing Wells has a formalized professional new teacher induction program that is comprehensive in its offerings for teacher development, coherent in that it is not a hodgepodge of the latest fads and programs floating around academic circles, and sustained in its efforts to create expert teachers and to keep them in the district...."

By Sarah Powley, Education Coach
Holding the instinct for rescue in check sends important message to our children and our students.

By Dede Rittman
The actual quote for the lesson was "As you go through life, make sure you look at the whole donut and not just at the hole."
Clever, right? So often, when we are faced with a small problem or when things are just not going our way, we tend to focus …

By Jennifer Davis Bowman Ed.D.
We give it 12 minutes. After 12 minutes of watching a movie with my husband, if we are not engaged, we turn it off. Our movie watching practice makes me think about engagement in the classroom. At what point do students "turn off" and become disengaged? …

By Rebecca Sublett
Growing up, I always heard the term P.K. (Preacher's Kid). It seems there were always a lot of expectations for the preacher's kids. According to the rest of us, they should be the most well-behaved, loving children because their father is the preacher. Right?! Wrong. They are just normal kids …

By Leah Davies, M.Ed.
We communicate with others, not only verbally, but by how we act. Since we are constantly sending messages, we need to be aware of our appearance, gestures, posture, eye contact, use of space, body movement, what we carry with us, how close we stand or sit to others, and our …

By kindergeek
I'm bad. I'm bad for all these reasons.

By Teachers.Net Teachers
A math teacher asked peers on the Math Teachers Chatboard, "Our school is pushing towards a general no-homework policy. Is there anybody out there successfully doing this, or tried it and can offer some feedback? I teach 8th grade pre-algebra." You won't believe the response!

By Teachers.Net News Desk
What started as a challenge from a student has turned into a post-teaching job for one retired English teacher.

By Internet Scout Report
Open Culture gathers together all of the wonderful, disparate (FREE) content from around the web, curates it, and presents it in an easily navigable and enchanting format!

By Teachers.Net Teachers
I would appreciate hearing from those who have taught either of these manuscript styles. Our school is considering a change to D'Nelian, but I have concerns.

By Teachers.Net News Desk
Code.Org recently helped over 60,000 classrooms nationwide participate in the Hour of Code! Read about their free training program.