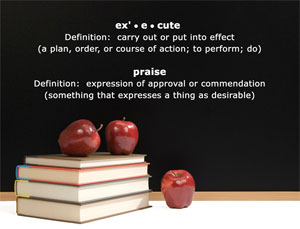 "But I tell them over and over again what to do, and they just don't do it!" This is the common lament we hear repeatedly from teachers. We contend that in most every instance it is not the child being mean, ornery, stubborn, or disrespectful when they don't know what to do. It is the lack of what all effective teachers know what to do - practice, practice, practice - until the do becomes a done and a routine is established in the classroom.
Telling students what to do is just one of the three steps to teaching a procedure or what you want done in the classroom. ....

By Sarah Powley, Education Coach
This is not a story about a 7th grade assignment sparking my career—heaven knows, I had been on the path to becoming a teacher since I'd learned to read—rather, it's a story about a galvanizing moment in my education and how it happened and what I hope for, for every …

By Rosanna Pittella PhD
"Those who refuse to learn from the past are doomed to repeat it," said George Santayana nearly a century ago. Yet our public school system continues to operate on the myth that what teachers do in classrooms is enough to close the gap on learning between children at all socioeconomic …

By Tim Walker
I'm definitely experiencing classroom shock—a shifting of my pedagogical mindset—as I settle into my new job as an American 5th grade teacher at a Finnish public school. My family and I plan on living in Finland permanently, but I can't help but think about what I'd do differently if I …

By Tom O'Malley
In his essay "The American Scholar" Ralph Waldo Emerson describes how the human mind proceeds to classify things in the world around him. As the child grows, he or she begins to make connections and classifications. A keen observation because it describes exactly what the modern teacher is striving to …

By Leah Davies, M.Ed.
School professionals are often blamed for the ills of society. Yet, there are countless administrators, teachers and counselors who challenge and inspire students to do their best and strive for excellence. Here are 10 ideas educators may want to consider as they continue their work.

By Teachers.Net News Desk
A plethora of lessons and resources that will enrich your Black History Month activities.

By Teachers.Net News Desk
A new study from Frank Porter Graham Child Development Institute has found that parenting affects the academic and social performance of African American boys as they move from preschool to kindergarten.

By Teachers.Net News Desk
Announcing a fascinating exhibition, celebrating the remarkable life, vision, and heroic tenacity of a 20th century pioneer and trailblazing photojournalist. Ruth Gruber is now 102 years old, and her work spans more than five decades, from her groundbreaking work in the Soviet Arctic in the 1930s and her iconic images …

By Teachers.Net News Desk
The U.S. Census Bureau has at its disposal a vast array of information for the general public. This online gallery provides access to several dozen visualizations documenting population change, settlement patterns, and more.

By Ron Victoria
Here's the line up of special days for February! Silly and serious, something for every day of the month!