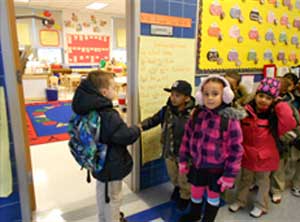 We dropped in at SISCL in November 2011 and were astonished at what we saw. Bear in mind, we've seen hundreds of schools through the years, but nothing like this. There was a glow everywhere-on the teachers' faces, in the children's eyes, in the bulletin boards in the hallways displaying student work, in the clean stairwells, from the sun as it poured into the classrooms' clean windows. SISCL was a place that magically captured your spirit and wouldn't let go!
During our visit we invited the teachers to share their work with us. In all our decades of dealing with teachers and schools, we have never, never had the collaboration and cooperation from teachers as has been shown by the SISCL staff. We were overwhelmed with their professionalism: their work, their attitude, and their community of sharing. The staff were breathing and living their school's mission of leadership every moment of their day.

By Anna König
Cross curricular teaching. Love it or hate it, it's back with a vengeance. Anna König, a primary school teacher from the United Kingdom discusses her experience of going 'cross curricular.'

By Charity Preston
Many teachers shy away from alternative assessments because they take extra time and effort to create and to grade. On the other hand, once the assessment guidelines and grading rubric are created, it can be filed away and used year after year. Here are 40 alternative assessment ideas to get …

By Karen Cox
These Valentine and heart themed activities will enhance learning and win the hearts of young students.

By Bill Page
Last month Bill Page advised teachers to remember two important words: "shut up!" Now Bill says, "I have two more words for you to love and write on your palm…"

By Teachers.Net Community
It is true that if we're good enough teachers we should be able to overcome any problem presented by a student? One teacher's humble opinion.

By Teachers.Net News Desk
Human actions have a huge impact on water quality and quantity, yet most people have little understanding of where their water comes from or how their actions affect water. This lack of awareness is a big problem when scientists are predicting that by 2025 more than two-thirds of the world's …

By Teachers.Net News Desk
A diverse set of resources that will help teachers integrate technology into their classrooms.

By Teachers.Net News Desk
Created by Professor Norman Herr of California State University, Northridge (CSUN) The Sourcebook for Teaching Science covers biology, chemistry, physics, and geoscience.
This section of his creative sourcebook provides access to online materials that deal with the scientific method. The materials here are divided into five sections, including "Observation vs. Inference", …

By Marjan Glavac
The Jewel of Muscat site features free lesson planshttp://www.jewelofmuscat.tv/ and fun class activities covering geography, history and technology for students aged 6-16, centred on the reconstruction and new voyages of a 9th century trading ship that sailed the Maritime Silk Road from Arabia to China.

By News Links
How many times have your students asked "When are we ever going to use this in real life?" You'll find the answer here!

By Sarah Bousquet
This unit includes relevant APA standards, outline and six lessons, along with a link to rubrics for evaluation.

By Teachers.Net Community
Pin It
//

Visit http://gazette.teachers.net/gazette/printables.html for clickable links to all FREE printables on Teachers.Net!