Flash Tutorials for Biological Sciences
By Teachers.Net News Desk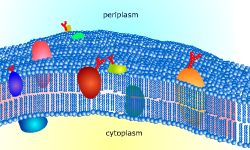 Flash Tutorials for Biological Sciences [Flash Player]
http://telstar.ote.cmu.edu/biology/
Over the past few years, staff members at Carnegie Mellon University's Department of Biological Sciences and the Office of Technology for Education have created an impressive suite of multimedia course materials to assist science instructors.
The materials here are divided into four primary sections, including "Interactive Animations", "Biology Labs", and "Supplemental Interactives".
In the "Interactive Animations" area visitors will find animations that illustrate cell membranes, transport functions (such as signal transdaction) and DNA replication.
Moving on, the "Biology Labs" area contains virtual lab exercises that deal with protein purification, membrane permeability, and osmosis.
Finally, the "Supplemental Interactives" contains interactive features that address topics like the ICE structure. Here users can see the operation of covalent bonds, as well as the hydrogen bonds which form the structure.
From The Scout Report, Copyright Internet Scout Project 1994-2011. http://scout.wisc.edu/