Tuition-Free Summer Institute for Math Teachers, Pepperdine University
By Teachers.Net News Desk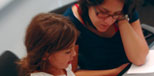 Teacher Creativity, Technology Integration, and Digital Media Authoring for Mathematics Learning: Toward a New Paradigm in Teacher Professional Development
One week tuition-free sessions for each of four weeks, beginning July 18, 2011,  at Pepperdine University campuses in West Los Angeles (July 18), Malibu (July 25), Encino (August 8), and Cabrillo High School in Long Beach (August 1).  9 am – 3 pm daily, lunch provided.  Participants must be high school or middle school mathematics teachers or coordinators/district managers and must be able to commit to full participation for the five days of their selected seminar.  Registration is limited and subject to enrollment and program management decisions.  Classes may be offered at the West Lake Village (August 8) and Irvine Graduate Campus (August 1) depending on funding and registration.
These sessions are designed in part to help teachers prepare materials for the forthcoming school year.
Main information and registration pages:  http://gsep.pepperdine.edu/education/summer-institutes/
Please email  Eric Hamilton, Pepperdine University for more information or to pose questions
Here are some excerpts from the information page:
The seminar is part of research in next-generation professional development that both the US National Science Foundation (NSF) and the US Department of Education support at Pepperdine University. Please note that teachers should be prepared to participate in data collection related to the project (such as interviews, surveys about professional development). We provide and take advantage of software that allow teachers to create digital video and animated explanations of mathematics concepts that link flexibly to student needs and to instructor strengths. Additionally, the videos are organized according to California state standards and topical area and to the recently adopted Common Core Standards in Mathematics (CCSM). Teachers, students, and parents have access to the videos at http://teacherscreate.org .
Comments by prior mathematics teacher participants in this seminar:
I am having a blast. I am learning so much.
POWERFUL!
In most workshops you go to, you sit, and you just you come in one way and take in what you can. This one is a lot more give than take and I'm amazed at how much I'm learning in the process.
I was like "Do I have to go to this training? Professional development (workshops) are never effective, they're just usually fluff, and a waste of time." But (now) I don't want to go home. I'm really enjoying this. I'm learning so much.
This is perfect, so perfect for my classroom. I love everything, the whole setup.
The program is a catalyst for effective, real teaching
This program puts a band aid on math sores and bruises students experience in their math classes. They tend to get stuck on a problem, concept, or idea and their paralyzed from moving forward. Having the opportunity to jump on a computer and watch a video that answers all their questions is the key in preventing students from giving up.
Watching the videos of other participants also focused my attention on other effective teachers allowing me to use their ideas to benefit my own presentations. The library creation is the best part of the institute. By watching many other videos my ideas started flowing. I began thinking about different teaching techniques and video production ideas.
I'm more motivated to do my best work because the document (video) becomes part of a group of work. I know my creation will be in a shared library for others to view and I have a desire for it to be useful to other users, as well as myself, if applicable. In addition, after viewing other teachers' creations, I will often think of new and fresh ideas/variations of my own work and use other techniques that I like to improve my own work.