The Dream Flag Project: Dreams Gone Global For A Local Community School
By Teachers.Net News Desk
Tweet

By Tammy Feil, Ed.D. and Cynthia Ferraro, Ph.D.
The recent character education movement has been a critical component to teaching the social studies. The purpose of this article is to share a collaborative project, The Dream Flag Project, between higher education and elementary school students that encompasses the character education pillars through dream poetry based on the works of Langston Hughes.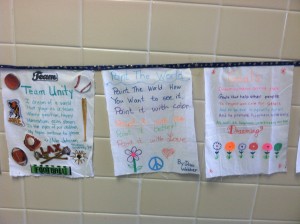 The Dream Flag Project started small in 2003 at The Agnes Irwin School, a K-12 school for girls in Bryn Mawr, PA. Students were taught about dream poetry by Langston Hughes and created their own dream poems. Student poems were printed and decorated on 8 ½ x 11 inch pieces of cloth with the entire collection of student poems connected on a dream flag clothesline. The premise for dream flags is modeled after Nepalese Buddhist prayer flags with the ultimate goal to share positive hopes and dreams with the world. At first glance, the Dream Flag Project may appear fundamentally basic. However, spectators are immediately hooked when introduced to this project and recognize the far-reaching goals that meet the demands of PA Core and Academic standards, promote citizenship, and respect for all humankind in our global community.
With more than 70,000 dream flag K-12 student participants in 38 US states, as well as 18 countries including Australia, Belize, Canada, China, Costa Rica, France, Honduras, Japan, Kenya, Morocco, Mexico, Nepal, Pakistan, Rwanda, Romania, Russia, South Africa, and Zambia, the Dream Flag Project is catching on in many schools.
University students from a small, Pennsylvania Catholic, Franciscan university had the opportunity to participate in the Dream Flag Project. The students visited Agnes Irwin School, spending time in a sixth grade classroom observing the students' process. When they returned to the university they completed the process themselves. They also worked with another local elementary school to teach those students the process and helped them complete their own dream flags. The culmination of these activities was the Dream Flags display and event at the Philadelphia Constitution Center.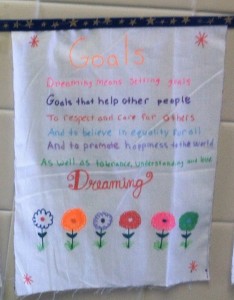 The university students taking part in this project were asked to write reflections about their experiences. One university student wrote:
"An initiative that seeks to enlighten and empower those involved by giving them a voice. It enables children to actively engage in the acquisition of fair and equal rights for all. It behooves us as educators to instill in our students the pride that comes from being educated and involved in the world. When I think of civic competence that is what comes to mind. Children need to understand that they can alter what they see when they look out of their window. They truly can do something that can benefit another student on the other side of the street or the other side of the world. Dreams have no boundaries."
It becomes a complicated process for teachers to make the learning come alive with meaning and purpose in the lives of our students. Dream Flags is a program that makes this process easier for teachers to make learning purposeful and engaging and meets many competencies of learning expected by our students in K-12 through higher education.
Read more about the Dream Flag Project here, including how to get your school involved.
References
Character Education Partnership. (2014). 11 Principles of Effective Character Education. Washington, DC. Retrieved November 5, 2015, from www.character.org.
Dream Flag Project. (2012). Our Story. Bryn Mawr, PA. Retrieved January 10, 2014, from http://dreamflags.org/about-us.
Josephson, M. Hanson, W. (Ed). (2002). Making Ethical Decisions. Los Angeles, CA: Josephson Institute of Ethics.
About the authors
Tammy Feil's professional experience includes 17 years in the profession of education with experience in special education, inclusion, and autism. Dr. Feil has taught higher education at Neumann and Wilmington Universities for the past 14 years.
Cynthia Ferraro's professional experience includes 26 years in the profession of education, of which 12 years were in the classroom as a 6th, 7th, and 8th grade social studies teacher. Dr. Ferraro has taught higher education at Neumann and Eastern Universities for the past 14 years.