Teachers: You do an excellent job with the blueberries you get. Just keep doing it.
By Teachers.Net News Desk
U.S. vs. highest achieving nations in education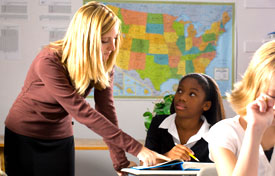 The following was posted by Zhel, an educator in Belgrade, Serbia who is a long-time participant on Teachers.Net forums. He – an unbiased, outside observer of many years – offered these insightful and encouraging words to teachers during a discussion about the quality of k-12 education in the United States compared to that of other nations – such as Finland – currently touted as higher achieving than the US. Please share this; teachers deserve to hear what Zhel so eloquently said.

Based on what I read on this board, you are achieving excellent results with the student body you have. All teachers here say that their students work very hard and achieve at top of their potential, BUT their potential is seemingly often about average.
You have a lot of students without proper command of English which is the language of instruction; you include most or all special ed. students in the statistics for general population; your poor students often do not strive toward achieving further education in order to escape dire conditions, as you keep providing just enough free stuff (food, classroom supplies) to keep them above the bar for satisfaction; then someone made unrealistic demands that ALL students should be above some imaginary bar in classroom test achievement. We read the same sentences over and over on this and other teacher forums. You do an excellent job with the blueberries you get. Just keep doing it. [Editor's note:  Zhel's reference to the "blueberries you get" comes from the famous essay "The Blueberry Story: The teacher gives the businessman a lesson" available here.] Readers may add their comments below.