SlimeKids – School Library Media Kids
By Teachers.Net News Desk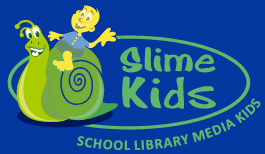 SlimeKids is a new website that provides an optimal interactive experience for students to explore and get motivated to learn on their own. It is a great resource for teachers and library media specialists. Packed with book trailers, language arts-related games and much more, it functions as a portal through which students can access the most high-quality educational tools and literacy-related resources found online. Students can play language arts games, use search engines, read book reviews, watch book trailers, visit author websites, and check reference works in a fun and user-friendly environment. Read more about these features below.
Visit us at this link:
Take a tour of the site here:
http://www.screencast.com/users/rawallin/folders/Jing/media/abb6055a-7d09-49d1-9d9d-a51160f633d4
SlimeKids games possess the unique combination of being fun games to play while also having bona fide educational value. Students become so absorbed with these games that they don't realize how they are reinforcing essential skills and learning new concepts. These games go beyond typical online word jumble and word find games by utilizing more unique gameplay attributes that challenge students and stimulate deeper and more sustained thinking. The detailed directions that are provided will help students understand the games and get the hang of them more quickly. The three game categories to choose from include spelling games, typing games and grammar games. Hover over each image to get a brief description of the overall idea of the game and the level of difficulty. Although determining how hard or easy a game is can be complicated because there are many variables involved, the games are color-coded into two general categories. Yellow means that the game allows students to choose the level of difficulty or that the game may be less difficult than the green games, which are considered to be more difficult. The best way to see if a game is a good fit is to read the directions and give it a try.
SlimeKids provides access to an array of student-friendly search engines that help connect students with relevant online resources. These search engines tend to lead students to high-quality educational websites with minimal exposure to commercial content while often using various types of filtering technology to block inappropriate content. Many of them are not just search engines, but search directories. A search directory is a collection of handpicked websites. Students can utilize these directories by picking a broad category and then narrowing their search with further subcategories. Hover over each image to get a brief description of how the search engine is used.
The book review websites on SlimeKids allow students to explore books written for school-age kids. They can look up a particular title to see what others have to say about it or can just search to find potential new books to read. In contrast to typical book reviews that are written by professional book reviewers and are used to sell books, most of the book review websites on SlimeKids have reviews written for kids by a variety of contributors including teachers, librarians, parents and by kids themselves. Hover over each image to get a brief description of how the website is used.
Book trailers are an excellent way to build interest in upcoming or current books. They are short videos that are similar to movie trailers in how they highlight major themes or plot points to grab your attention. Typically, book trailers convey a sense of the book while not giving too much away in order to leave the reader free to visualize and imagine while reading. Hover over each book trailer to get information about the genre and reading level. Although grade level suggestions are provided to give a general idea of the level of difficulty, keep in mind that this is just an estimation based upon lexile measures, which do not correspond directly to a given grade. Furthermore, a lexile measure is only a measure of how difficult a text is to comprehend based upon word frequency and sentence length. It does not convey any information about what age levels may be most interested in the book based upon the subject matter. Of course, all one has to do is watch the book trailers to see what looks interesting, which is the whole purpose.
The websites of many of the most renowned and admired authors of books for school-age kids can be found on SlimeKids. Author websites provide students with a chance to get to know an author better and find out about their background. Students can also learn about other books the author has written and often times about books that are in the works. The authors may also communicate regularly with a blog and provide ways for readers to contact them directly and ask questions. Hover over each image to see a sample of some of the popular books each author has written.
SlimeKids provides students with convenient access to the most dependable student-friendly reference works available on the web. Online reference works are frequently updated and also can be advantageous because they tend to be accessed more frequently due to their ease of use. We currently feature online dictionaries and encyclopedias. Hover over each image to get a brief description of how the reference work is used.
—
Andy Fine, Reading Specialist & Library Media Specialist
Robbinsdale Area Schools, New Hope, MN
SlimeKids – School Library Media Kids