Teachers.Net Contributor Has Passed Away
By Teachers.Net News Desk
November 4, 2009
Teachers.Net has received the sad news that educator, lecturer and Teachers.Net Gazette contributor Dorothy Rich passed away on October 25.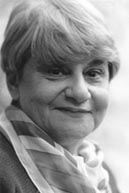 Former Washington Post columnist, founder and president of the nonprofit Home and School Institute, MegaSkills Education Center in Washington, DC, Dorothy Rich was the author of MegaSkills and developer of the MegaSkills Teacher Training Programs.
The Washington Post says Dorothy Rich was "one of the nation's best known and most persistent advocates for mobilizing parents' interest in their children's education."
Teachers.Net was fortunate and honored to share Dorothy Rich's wisdom and expertise with our community of educators through her articles in Teachers.Net Gazette. We mourn the loss of a cherished member of our peer support network and know that through her published work and the millions of parents and educators she inspired, Dorothy's positive influence on children, families and teachers will continue.