Ruth Gruber Photojournalist Exhibit Opens in Skokie, IL Holocaust Museum
By Teachers.Net News Desk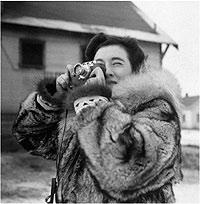 MIDWEST PREMIERE: RUTH GRUBER: PHOTOJOURNALIST
February 16 – June 1, 2014
Illinois Holocaust Museum and Education Center
9603 Woods Dr, Skokie, IL 60077
The Illinois Holocaust Museum and Education Center is pleased to announce the Midwest premiere of Ruth Gruber: Photojournalist, a fascinating exhibition, which celebrates the remarkable life, vision, and heroic tenacity of a 20th century pioneer and trailblazing photojournalist.
Now 102 years old, Gruber's work spans more than five decades, from her groundbreaking work in the Soviet Arctic in the 1930s and her iconic images of Jewish refugees on the ship Exodus 1947, to her later work in the 1980s documenting Ethiopian Jews in the midst of a civil war. Ruth Gruber: Photojournalist features a selection of vintage prints that are presented alongside contemporary prints made from original negatives, early film footage, and ephemera from Gruber's personal archive.
Gruber's life and work have been inextricably bound to the lives of the refugees whose plight she has showcased, and dedicated to their rescue, sanctuary, and liberation. Her tools have been her boundless tenacity, empathy, razor-sharp intellect, a Hermes typewriter, and a camera. With these tools, she has documented successive waves of migrants from Yemen, Iraq, Romania, Morocco, Tunisia, and Ethiopia, photographing often perilous journeys of emigration, small Jewish villages in North Africa and the establishment of new lives in Israel.
"We are delighted to recognize this extraordinary woman who used photography as a means to stand up for those in peril, even if it meant risking her own life in the process," said Arielle Weininger, Chief Curator of Collections and Exhibitions. "Not only did Gruber break tremendous barriers as a female photojournalist, she represented the power of one person to be a voice for countless voiceless victims."
Gruber is the author of twenty books and is the recipient of the 2011 Infinity Awards Cornell Capa Award. Her reportage and photojournalism have acted as advocate and witness for her subjects throughout her long career. Ruth Gruber: Photojournalist will introduce the broader photography community to one of the twentieth century's great humanitarians and photojournalists.
The Illinois Holocaust Museum and Education Center's feature program in conjunction with this exhibition will be held on Sunday, February 23, 2014. A film screening of Ahead of Time: The Extraordinary Life of Ruth Gruber will be followed by a discussion with the film Executive Producer, Patti Kenner and a rare conversation via Skype with Ruth Gruber.To register for this event or to learn more, visit www.ilholocaustmuseum.org or call 847-967-4889.
This exhibition was made possible by friends of Ruth Gruber, and is a traveling exhibition of the International Center of Photography, New York. The Golder Family Foundation is lead sponsor for all Illinois Holocaust Museum special exhibitions. Additional local support provided by the David C. & Sarajean Ruttenberg Arts Foundation. This program is partially supported by a grant from the Illinois Arts Council Agency.
The Illinois Holocaust Museum & Education Center is dedicated to preserving the legacy of the Holocaust by honoring the memories of those who were lost and by teaching universal lessons that combat hatred, prejudice and indifference. The Museum fulfills its mission through the exhibition, preservation and interpretation of its collections and through education programs and initiatives that foster the promotion of human rights and the elimination of genocide. The Museum is open Monday through Friday from 10:00 a.m. until 5:00 p.m.; Thursday evenings until 8:00 p.m.; and Saturdays and Sundays from 11:00 a.m. until 4:00 p.m. Learn more at www.illinoisholocaustmuseum.org