Reading Strategies: Teaching Students to Visualize by Lisa Frase
By Teachers.Net News Desk
Good readers visualize when they read. Here are 5 simple ways to engage students in visualizing text using tactile, visual and kinesthetic methods

by Lisa Frase
Teaching eVentures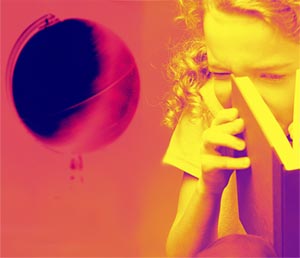 How do you teach children to "see" what they read? We know good readers visualize when they read, or make "pictures in their minds," but how do we help struggling readers create their own mental movie picture shows?Here are five visual, tactile, and kinesthetic solutions to actively engage your students in the strategy of visualizing.

Envision Maps

Envision Maps are similar to mind maps. Students use words and pictures to illustrate their thinking as they read text. They begin in the center of the paper sketching pictures and writing one to three words demonstrating the pictures in their heads when they begin reading. As they read along, they branch out, adding new thinking and sketches.

What kinds of sketches and writing should students put on their Envision Map? Let's say they are reading a story about a dog. Sketch the dog. What does the dog look like? Is the dog big or little? Does the dog have short hair or long hair? What kind of dog is it? What color is the dog? Students add these mental images to their paper in one to three word phrases. They sketch their dog as they see the dog. Where is the dog? Students sketch a setting. Perhaps the dog is in the park. They draw trees, grass, the sky, and a swing set. They write the name of the park. The images and sketch notes branch out and include words they don't know (or have to use context clues to figure out), sketches of characters and setting, and short notes on the big ideas in the text.

In order to get kids to sketch and think on paper as they read, it is important to model the process first. Read a story out loud and model your own thinking by sketching and writing short think notes as you go along. Model a few Envision Maps in front of your students and then complete a shared Envision Map together before releasing students to work on a map on their own. Once students complete a map, hold individual conferences and ask students to use the map to retell the story and describe the pictures they saw in their mind during the reading process.

Visual Manipulatives

Sometimes children need a concrete picture and a manipulative to help them visualize. This is especially true for English Language Learners. You can easily make manipulatives by finding free clipart on the Internet. Simply search for clipart representing characters and setting in the story you plan to use, copy and paste the clipart pictures into a Microsoft Word document, print it off, and then laminate and cut out the pictures.

As you read a story out loud, students can move the pictures around, following the story in sequence. Students can use the pictures to retell the story to you or to a partner. Attach magnets to the back of the pictures to use on a magnetic white board or chalk board. Remember the felt pictures used in storytelling in Vacation Bible School and preschool classes? This is basically the same concept, except students are the ones moving the pieces around. This technique helps students "see" the story, as well as retell the story.

Story Bits or Story Treasures

Story bits are a popular tool for helping children remember and retell a story. Think of a small item that reflects something in the story. The item could be as simple as a penny or a sticker. The idea is to give each student a story bit to help them remember the story. They can take their story bit home and use it as a "helper" when retelling the story to their parents.

Let's take this idea and stretch it. What if you have a bag of story bits for your guided reading group? Each story bit represents a different part of the story, whether it's the characters, setting, or an event. Put the story bits in front of students as you read the story aloud. Afterwards, ask students to use the story bits to help them retell the story. These little visuals go a long way in helping children begin to make those pictures in their minds.

Dramatizations

Don't underestimate the power of dramatizations. They are visual and kinesthetic opportunities to get your kids actively engaged in the story. Acting out stories is the equivalent of creating a mini play. This mini play provides all of your students with a larger than life visual picture of the story.

Add props and costumes to bring to the dramatization another visual layer. Give every student a chance to play a role. Young actors will begin to see pictures as they develop their roles in the dramatization. This activity forces children to "see" Red Riding Hood's forest, the wolf, and Grandma's house. Talk through the scenery with your students before they begin their performance. Where is Grandma's house? What does it look like? Is it a tiny log cabin surrounded by trees? Can they see the sun peep through the branches? Is there dirt on the ground or grass? Does Grandma have window boxes filled with colorful flowers? These are the types of pictures you want your students to envision. Acting out scenes in a story will help your students "see the pictures in their minds."

Movie Director

Calling all casting directors! Older kids will get a kick out of casting the movie for the book they've just read. They will love finding pictures for different scenes. Your students can choose Despereaux's castle, Charlotte's barn, or Dorothy's home in Kansas from pictures on the web or magazines. They can decide who in their class (or Hollywood) would make a perfect Leslie Burke or swashbuckling pirate.

Create a time sequenced visual map using bulletin board paper and a large wall space. Let students add pictures and captions depicting characters, setting, and events. If you read a book that is already a movie then you can compare and contrast student's visual ideas with the director's vision. This gives you the chance to talk about how people bring their own background to the text when they read.

Creating visual aids to help your students "see" pictures in their minds will go a long way in helping them to deepen their reading comprehension. The first step is to create awareness that readers visualize when they read. Once students begin to create mental images, books will have a whole new meaning for them.