For Your Pearl Harbor, WWII Unit: My Pearl Harbor Scrapbook by Bess Taubman and Ernest Arroyo
By Teachers.Net News Desk
Tweet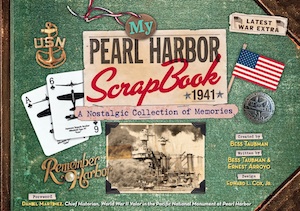 With its captivating scrapbook-like format, this book would be an excellent addition to the classroom for use during history and social studies units related to Pearl Harbor and World War II. The topic and format will appeal to all ages.
Title: My Pearl Harbor Scrapbook 1941 – A Nostalgic Collection of Memories
By Bess Taubman & Ernest Arroyo
Available here on Amazon.com
Published January 14, 2014 by MapMania Publishing Co
Hardcover: 98 pages
$24.95 US/ $32.50 CAN; 9781883443078
A Nostalgic Collection of Memories unravels the momentous event of one of America s greatest tragedies, the attack on Pearl Harbor from its early Japanese inception, through the attack and its devastating aftermath.

With the "look and feel" of a WWII period scrapbook, each two-page spread illuminates a specific aspect of the Pearl Harbor story with the use of hundreds of original photographs, maps, telegrams, newspaper articles, hand-typed notes and letters.
The use of captivating design elements engage the reader in what life was like at Pearl Harbor, Hawaii before, during and after December 7, 1941. Told in "bite-sized" pieces this history book is easy and fun to read for all audiences. Treasured collections from the 1940's of ephemera, pins, buttons, watches and medals illustrate each page and stirs the imagination. My Pearl Harbor Scrapbook, 1941: A Nostalgic Collection of Memories is an "adventure in learning" about the many essential details of the Pearl Harbor account.
Author Biographies
Bess Taubman, author of My Pearl Harbor Scrapbook 1941, combines her unique talents as writer, designer and publisher creating dynamic, educational products about historical subjects. She has been writing about the Pearl Harbor story for over twenty years. Presenting the reader a unique way to learn about complex subjects, Ms. Taubman is helping to reshape the way historical information is introduced with colorful vivid story lines. This is her first book. She lives in Phoenix, Arizona with her husband and daughter.
Ernest Arroyo is a former president of the Pearl Harbor History Associates. He is the author of Pearl Harbor, a photographic history of "a date which will live in infamy" as well as contributor to more than a dozen books on naval and maritime history, including East Wind Rain, an acclaimed account of the Pearl Harbor attack. He lives and writes in Stratford, Connecticut.
For more information please visit http://mypearlharborscrapbook.com, and follow the author on Facebook