New Children's Book: Wonderful Words by Lisa Bundrick
By Teachers.Net News Desk
Lisa Bundrick has published another children's book!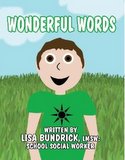 Wonderful Words by Lisa Bundrick
The development of a healthy self-esteem begins in childhood. Children develop their self-esteem in many ways including through accomplishments, skills, talents and feedback from others. Adults play an important role in helping children to develop a healthy self-esteem, as adults teach and encourage children to notice the wonderful things about themselves. Wonderful Words is a children's book written to help enhance a child's self-esteem by teaching him/her the meaning of selected "wonderful words" and encouraging the child to think about how these "wonderful words" may apply to him/her.
Lisa Bundrick has a Master of Social Work Degree from the University at Albany , State University of New York, a Bachelor of Arts in Sociology Degree from Plattsburgh State University of New York and an Associate of Arts in Liberal Arts Degree from Adirondack Community College . She holds her permanent certification as a School Social Worker and is a Licensed Master Social Worker (LMSW) in the state of New York . Lisa is a published author of articles relating to school social work and education and is currently employed as an elementary school social worker. As a school social worker, she works with students in individual, small group and classroom settings.  In addition to her counseling experience, she has experience with crisis intervention, developing functional behavior assessments and behavior intervention plans and staff professional development.