*NEW* Book! Be the Parent, Please: Stop Banning Seesaws and Start Banning Snapchat by Naomi Schaefer Riley
By Teachers.Net News Desk
Tweet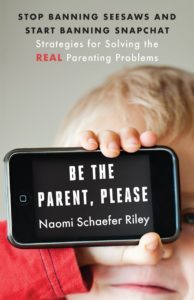 Think American Education Can't Get Worse? Put iPads in the Classroom by Naomi Schaefer Riley, Author of Be the Parent, Please (release date January 8, 2018)
The following is excerpted from Be the Parent, Please: Stop Banning Seesaws and Start Banning Snapchat. Published by Templeton Press. (c) 2018 Naomi Schaefer Riley.
As kids get older, there are more things to distract them from reading for pleasure. Many of those things are out of the control of parents, at least to some extent. Kids are in school for long hours and engaged in extracurricular activities on multiple afternoons a week. On the weekends, families are often on the go, trying to run all the errands there were no time for during the week. But for parents to say they wished their children would do more things that did not involve screens implies that parents can't control this aspect of their children's lives. Sure their lives are busy, but when you think about all the times that they spend waiting — in a doctor's office, in the car, on a bus, at a restaurant — there must be times they could be encouraged to read a book. Instead, we give them devices to make the time go by.
Screens not only take away time from reading, they make reading harder and less satisfying because there are always other things that seem easier. Writing in The Dumbest Generation, Mark Bauerlein decries the fact that without guidance from adults — indeed sometimes with their encouragement — young people are wasting hours "in an online youth world, running up opportunity costs every time they check their MySpace page and neglect their English homework, paying for them years later when they can't read or write well enough to do academic work or qualify for a job, or know enough to answer simple questions about the scientific method, Rembrandt or Auschwitz."
But it is not just some highfalutin standard to which Bauerlein, an English professor at Emory, is holding young adults. Corporate America spends billions each year on in-house literacy. And colleges spend billions on remedial education.
Middle-class American parents rightly spend a lot of time worrying about whether their kids will get a good education, whether they'll get into a good college, and whether they'll succeed afterward. But the onus cannot be entirely on the schools. The truth is that without adult supervision, teenagers will do what's easiest. And being online is easy. Selfies are easy. Snapchat is easy. Twitter is easy. Blogging is easy. Chronicling your own life, your feelings, the drama of your friends is easy.
But these are not the things that prepare you for adult life, at least not the kind of adult life that most of us want for our children.When one becomes used to reading the social media posts of friends, spending only a few seconds skimming through text or looking at pictures, other more important things will start to seem boring. After all this, Bauerlein wonders: "Who can endure an hours-long school board meeting? Why spend weeks listening to candidates and sorting out the issues then standing in line for two hours to vote . . . ?"
When we are trying to determine what kind of people we'd like our kids to become, we must fully engage with the question of how we want them to be educated. It's not just that we want them to do well on the SATs or to put hours in each night on their homework so that they can get into a good college. It's also that we would like them to enjoy learning, to become curious or even passionate about at least one subject. The use of technology at school and at home is making this much harder.
It's time to stop sugarcoating the truth. The more we know, the better equipped we can be to push back against the pressures coming at us from all directions. And if these experts can't be depended upon to help us in this fight, well, so be it. We parents will have to simply do what we've been doing for a long time. Put our foot down. Power to the parents.
Tips for Cutting Back
Question everything. If your child's school seems to be pouring technology into the classroom, ask why. Find out exactly what assignments require the use of a computer and which ones students have the option of doing the old-fashioned way. Ask administrators for evidence that the technology is improving learning outcomes.
Don't answer right away. When kids ask for a new app, a new device, or new content, do not answer on the spot. Do your homework. Figure out exactly what this access will mean for them. Use a site like Common Sense Media to figure out exactly what's age appropriate.
Books: don't leave home without them. You never know when a trip to the pharmacy is going to turn into something longer. If your children can read, make sure they always have a book on them. Even if they can't read yet, make sure there is something else for them to do in the car—Rubik's cube, coloring, dolls. Even scissors and tape can be handy for a quick art project.
Chat about books on the Teachers.Net Booktalk chatboard! Start a new topic today!
About the Author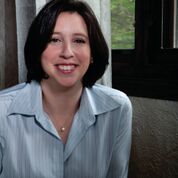 Naomi Schaefer Riley is the author of Be the Parent, Please: Stop Banning Seesaws and Start Banning Snapchat (Templeton Press, 2018). She is a weekly columnist for the New York Post and a former Wall Street Journal editor and writer whose work focuses on higher education, religion, philanthropy and culture. Her book, 'Til Faith Do Us Part: How Interfaith Marriage is Transforming America (Oxford, 2013), was named an editor's pick by the New York Times Book Review. For more information, please visit http://www.naomiriley.com/ and follow the author on Facebook and Twitter.