New Book: One Teacher in Ten in the New Millennium: LGBT Educators Speak Out About What's Gotten Better…and What Hasn't by Kevin Jennings
By Teachers.Net News Desk
Tweet

Beacon Press announces the release of Kevin Jennings's book, One Teacher in Ten in the New Millennium: LGBT Educators Speak Out About What's Gotten Better…and What Hasn't.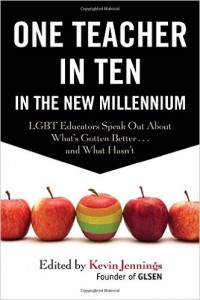 This new collection of stories from LGBT Educators is the third edition in the One Teacher in Ten series edited by Jennings and features previously unheard voices from the transgender community, international teachers, and educators of color.
For more than twenty years, the One Teacher in Ten series has served as an invaluable source of strength and inspiration for lesbian, gay, bisexual, and transgender educators. This all-new edition brings together stories from across America—and around the world—resulting in a rich tapestry of varied experiences.
From a teacher who feels he must remain closeted in the comparative safety of New York City public schools to teachers who are out in places as far afield as South Africa and China, the teachers and school administrators in One Teacher in Ten in the New Millennium prove that LGBT educators are as diverse and complex as humanity itself.
Voices largely absent from the first two editions—including transgender people, people of color, teachers working in rural districts, and educators from outside the United States—feature prominently in this new collection, providing a fuller and deeper understanding of the triumphs and challenges of being an LGBT teacher today.
Mr. Jennings and the contributors will be at the following events on the East and West Coast to promote the new book.
~Thursday, September 10th, 6:00-8:00pm, New York LGBT Independent School Educators Group at Little Red School House & Elisabeth Irwin High School, NYC
.
~Tuesday, September 15th, 7:00pm, The DC Center for the LGBT Community, Washington, DC
.
~Tuesday, October 6th, 6:00pm, San Francisco Public Library, San Francisco, CA
.
~Wednesday, October 7th, 7:00pm,. Los Angeles LGBT Center at the Renberg Theater, Los Angeles, CA
About Kevin Jennings
Kevin Jennings is the founder of GLSEN, the Gay, Lesbian, and Straight Education Network. Currently he is the executive director of the Arcus Foundation, a leading funder of human rights and conservation work. He lives in New York City.