Kilting the Common Core With Todd Nelson and Robert Burns
By Teachers.Net News Desk
School administrators, please allow us to share evidence of your ability to pursue a Common Core in inventive, uncommon ways. Contact us here.

We just had to share this excerpt from a recent weekly newsletter by Principal Todd Nelson. (Yes, that is the indefatigable Principal Todd Nelson piping amongst his students in celebration of Burns Day at Brooksville Elementary School, Maine.) He writes: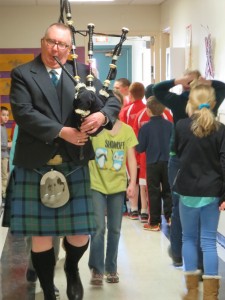 Robbie Burns: Not many countries have exalted a poet to the status that Scots have exalted Robert Burns, born on January 25thin 1759. Thus his birthday is still celebrated, lo these 256 years hence, wherever Scots have moved, "with high-spirited Robert Burns Night feasts, featuring haggis and other Scottish delicacies, as well as enthusiastic drinking, toasting, and speechmaking."
Leaving aside the use of the term "delicacies" for Haggis (doesn't every culture have a one-pot meal of some kind? There!), let us consider some of Burns's famous lines. "O would some power the giftie gie us, to see ourselves as others see us," for instance (To a Louse). Or, "A man's a man for a' that," or, "My luv is a red, red rose that's newly sprung in June," still widely anthologized.
Everyone has sung "For Auld Lang Syne" on New Year's Eve, no doubt. We will make our observances on January 22 this year with our tribute lunch (Thank you Susanne, for seizing the opportunity for cultural awareness and cooking up "the master o' the puddin' race") and appropriate musical interludes. I know that there are sufficient Scots among us to assume that many of our families will no doubt be preparing a supper for kith and kin on the actual day and will attend to the customary reading of Burns poems like "Ode to the Haggis," and the Address to the Ladies followed by The Ladies' Reply. Then let the dancing commence.
————————————————————–
Editor's Note: We feel confident that Robbie Burns would delight in this scene and might exclaim:

O Life! how pleasant is thy morning,
Young Fancy's rays the hills adorning!
Cold-pausing Caution's lesson scorning,
We frisk away,
Like schoolboys at th' expected warning,
To joy and play.



Gazette Readers: Enjoy more of Todd Nelson's joy and play:
Shooting For – Or At – The Standards
AND EVEN MORE by Todd Nelson!