Free Stock Photos for Lessons, Presentations, Newsletters
By Teachers.Net News Desk
I prepare a lot of newsletter and similar content for Teachers.Net, and I'm always searching for new sources of free or low cost quality images. You probably know about Wikimedia Commons, which hosts over 33 million free use media files – but the site is difficult to search, and in spite of the expanse of content, quality images are hard to find.
You can also search Google Image, click the "Search Tools" tab, and in the "Usage rights" dropdown, select one of the options that provides reproduction of the material. But be aware, the search engine may not categorize an image correctly. For example, Google may index it on a Creative Commons website, but it had been placed there by someone without the rights to the image.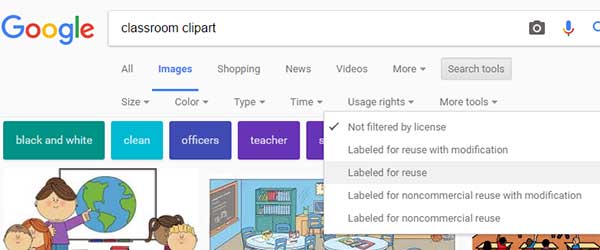 >
Bing has a similar functionality in its search engine, but you should again be careful about the rights listed for the image, if you're going to publish it broadly.
My latest find is a real gem – Pixabay. The site boasts "Free High Quality Images – Over 750,000 free stock photos, vectors and art illustrations."
The site provides a fantastic search engine allowing you to easily search and review a huge collection of quality photos available for free use. "All images and videos on Pixabay are released free of copyrights under Creative Commons CC0. You may download, modify, distribute, and use them royalty free for anything you like, even in commercial applications. Attribution is not required."
I suggest that teachers not only take advantage of this fantastic resource, but if you have your own quality photographs or clip art, consider sharing them as well on the platform. It's through the generosity of artists everywhere that this resource is available!
Bob Reap, Site Developer, Teachers.Net
—

Further reading – Pixabay FAQ:
What is Pixabay?
On Pixabay you may find and share images free of copyrights. All pictures are released under Creative Commons CC0 into the public domain.
Can I use your images?
You can copy, modify, distribute, and use the images, even for commercial purposes, all without asking for permission or giving credits to the artist. However, depicted content may still be protected by trademarks, publicity or privacy rights. Read more in our blog.
May Pixabay images be used on Facebook and other social platforms?
Yes, you may use Pixabay images on social media platforms. Learn more in our blog.
Why do I find Shutterstock images on Pixabay?
Sponsored images are shown to finance Pixabay and to provide a choice of professional photos. Those images are marked with the Shutterstock logo.
SafeSearch: How can I avoid inappropriate or explicit images?
Please make use of our SafeSearch filter, which can help you block inappropriate or explicit images from your search results. The SafeSearch filter isn't 100% accurate, but it helps you avoid most adult content. You may turn SafeSearch on and off through the settings on search results pages.
Enable SafeSearch
NO HOTLINKING – what does that mean?
If you want to show Pixabay images on your website, please upload them to your server. Pixabay image URLs don't work on external sites.
—
Read more: Pixabay Image Search