Elizabeth Balantyne Elementary School: A Leader in Mainstreaming Blind Students
By Teachers.Net News Desk
By Dave Melanson
Montreal Canada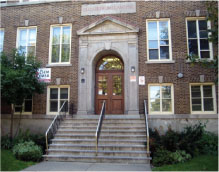 If one were to go back into history with regard to services for the blind and visually impaired in Montreal, Canada, one would look to the opening of its door,  The Montreal Association for the Blind in 1908.  This organization was started with the good will and effort to provide meaningful services and education to the Province of Quebec's English speaking blind and visually impaired community.
The school started out in 1908 with a handful of students and one teacher, Lilian Hungerford, who was blind herself.
The school always remained small, which allowed for students to have much more individual attention which was taylored to their individual needs.  The school also housed bedrooms upstairs where many of the students boarded for the entire week. Many of my friends went through this school and have fond memories of the teachers and childcare workers.
In the mid 1970's a new project was unveiled through the efforts of the Protestant School board of Greater Montreal (PSBGM) and Elizabeth Balantyne Elementary School.  Its then Principal Betsy Kremont worked closely with the Montreal Association for the Blind's Layton School to integrate totally blind students at least twice a week for half a day into a regular elementary school classroom. The idea was to have the students at Elizabeth Balantyne School get to know and work with these blind students and to become their friends. This project was extremely successful and it later paved the way for other elementary schools here in the Montreal area to follow suit.
In my own experience as a visually impaired person, I was mainstreamed from Kindergarten right through University as I had enough sight to be able to attend regular school at the time using special adaptive equipment. The schools I attended were Riverview Elementary, Woodland Elementary, Verdun High School, Dawson College, and Concordia University.
In closing I would like to leave my email address here should any teachers like to contact me. If there are any Montreal teachers who remember me as their student, please feel free to write to me as I would love to hear from you. All are welcome! My email is DaveM@mailcall.ca
Have a great month everyone and remember that teaching is a very special art.
Dave Melanson
Independent Education Consultant
Montreal Canada