Earth Science Teaching Plans and Classroom Activities
By Teachers.Net News Desk
From The Scout Report, Copyright Internet Scout Project 1994-2011. http://scout.wisc.edu/. Sign up for their weekly Internet Scout Report to receive valuable annotated links such as the following.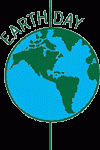 Earth Science Teaching Plans and Classroom Activities
Teachers looking for materials to help out in the classroom will find this well-organized site most useful. Created by the folks at Geology.com, the site's materials were compiled by Christy Pratt, and they are organized into nine thematic areas. These areas include "Volcanoes", "Water", "Weather", "Erosion", and "Plate Tectonics".
The resources featured within each section are taken from high-quality institutions and organizations, including the Smithsonian, Harvard, and the National Science Foundation.
Each area also includes a "News" area, which features topical news updates and briefs. Visitors can share these sites with other colleagues and friends via Twitter, Facebook, and other social media platforms.
To find this resource and more high-quality online resources in math and science visit Scout's sister site – AMSER, the Applied Math and Science Educational Repository at http://amser.org.