Cat in the Hat Pin for Read Across America Day
By Teachers.Net News Desk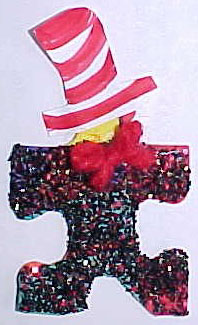 Made from one jig saw puzzle piece.
Spread a thin layer of white glue over all but the "head" of the puzzle piece and press it into a mixture of glitter (I used predominately black glitter with a bit of red and gold mixed in).
Hot glue on a tiny bow of red yarn.
Cut the hat from white paper. Color with a red, fine tip marker pen.
Hot glue a jewelry pin on the back (Jewelry pins are available in the crafts catalogs and in the crafts section of most department stores).
VOILA! A Cat in the Hat pin for Read Across America Day!
Note: Pieces from 1000 piece puzzles are too small, the 250 piece size works well. I haven't tried it, but I think the 100 piece size would make an awesome pin! If you don't have enough pieces formed properly to make the 2 legs at the bottom, simply cut out the shape of the legs as I did on the one pictured. (Visit the Read Across America chatboard for more great ideas, and to share yours with teachers around the globe!)