Engagement Beyond the Classroom
By Dr. Brad Johnson and Tammy Maxson McElroy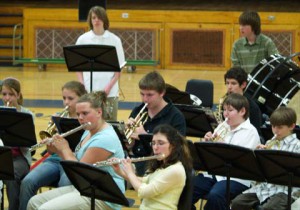 Student engagement is a hot topic in the current educational conversation.  Many school initiatives, professional development, and technology are focused upon student engagement in the classroom. But what about student engagement beyond the classroom?
How many schools focus on student involvement beyond the academic classroom? Why should schools focus on student engagement in extracurricular activities? The answer is simple… student achievement.
Did you know that most high achieving schools (public and independent) generally have a higher percentage of extra curricular participation among students than lower performing schools.  Extracurricular activities do not involve only sports, but include non sport activities such band, chorus, one act plays, yearbook and a multitude of other activities.
Why is it important to have students engaged in extracurricular activities?  Research shows that students who are involved in extracurricular activities perform better academically. The stats below from the National Center for Education Statistics are reflective of research over the past 2 decades.  These stats don't show all the benefits of extracurricular activity but do show the significance of participation versus non participation.
Indicators                                        Participants   Non-participants
No unexcused absences*                             50.4             36.2
Never skipped classes*                                50.7             42.3
Have a GPA of 3.0 or above                           30.6             10.8
Highest quartile on a composite math and
reading assessment .                                    29.8             14.2
Expect to earn a bachelor's degree
or higher ……….                                            68.2             48.2
* During first semester of their senior year.
—————————————————————————-
The research also suggests that students who participate in extracurricular activities are less likely to:
*     Use substances (Cooley, Henriksen, Nelson & Thompson);
*     Dropout of school (Mahoney & Cairns);
*     Misbehave at school (Marsh);
*     Commit delinquent acts (Landers & Landers).
The research suggests that when students participate in extracurricular activities they are less likely to engage in negative behavior as well as increase achievement. Wouldn't every teacher like students who are more engaged in the classroom? Wouldn't teachers love students who misbehave less in the classroom because of their engagement outside the classroom? Over the years, we have personally seen disruptive students become better students in the classroom because they made a sports team or joined a school sponsored club. These students performed better in academic classes and their behavior problems were diminished as well.
Why are students more successful when they participate in extracurricular activities? Students who are a part of a group or team feel a connection to their peers and to the school in general.  Students in extracurricular activities also develop social skills because of their interaction with peers and adults.  Students learn leadership skills, teamwork and goal setting as well.  They learn the importance of commitment, depending on others, and develop their own self esteem.  These are all skills and traits that are critical in the  "real world" and resonate with success in the classroom as well.
All students should have the opportunity to participate in extracurricular activities. Whether it is a sport, newspaper, government, or chess club, activities should be available.   However, with such a focus on academics, many schools have cut out clubs and even sports.  Unfortunately, schools have missed a great opportunity for increasing achievement and providing skills that students need to succeed in the "real world".
Another reason that extracurricular activities may be lacking is due to funds.  However, if your school has budget issues, there are still opportunities to increase extracurricular activities.  This doesn't mean that you would have to volunteer your time to sponsor a club, although it might be a good opportunity to offer an activity of interest to you.   But reach out to corporations for sponsorship of activities such as a drama club or band.  The YMCA, Boys Clubs and other organizations may offer activities for your school as well. There are many options to offering activities for all student interests which may take some work but will be worth the effort.
Extracurricular activities are a bridge that connects education to the real world.  This connection improves student achievement and decreases risky behavior in students. Therefore, extracurricular activities should be an integral part of every school.   Let's not leave out an important piece of the puzzle in student achievement.
 About the authors
Tammy Maxson McElroy and Dr. Brad Johnson are authors of The Edutainers: Connecting the Art and Science of Teaching.   Drawing upon 35+ years of combined teaching and administrative experience, Mrs. McElroy and Dr. Johnson share a wealth of knowledge and experience from "The Trenches".  Their expertise is balanced with their outgoing personalities and humor to create entertaining and engaging workshops.  Their motto is to "Work Hard, Play Hard". They are available for keynote, seminar or workshops.  www.eteachermentor.com