A High School Teacher Visits the "Little Ones"
By Dede Rittman
Tweet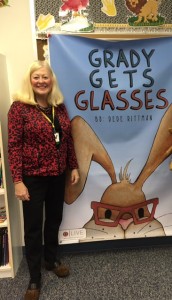 I have been enjoying reading my new children's book GRADY GETS GLASSES to preschoolers and other elementary students around the Pittsburgh area.  I taught 10th grade English and theater for 37 years, and I was a little concerned about dealing with the little ones.  I must share that my experiences have been delightful, and the tiny tykes are really not so different from the 10th graders.  It has been nothing short of FUN!
I want to share some humorous observations  (so far) from the preschool and elementary students and schools in which I have presented:
"Criss-cross, Applesauce!" means to sit down on the floor with legs crossed.  We never used this expression in 10th grade, but it works great with elementary kids!  (I found out that this phrase replaces one formerly used which is now politically incorrect.)
I have noticed that for whatever reason, all elementary schools smell exactly the same. (Chalk? Crayons?? Cleaning products????)
Toilets in elementary school lavatories are very short.  And virtually every girls' room has a sign that says "Remember to flush."  I am wondering what percentage of small girls can read that sign?
Adults in elementary restrooms must become VERY AWARE of not tripping over small stools which are in front of some sinks.
When asked their names, students will tell you not only their name, but also their first initial. Example of a student I called upon and asked his name – he said  "I am Logan S." Of course, I had to reply, "I am Dede R."
I like to ask the kids their ages, just to break the ice. During my introduction, I tell them that I was a teacher for 37 years. Each and every  time I have said this, there has been an audible gasp from the group. Some small brave souls actually ASK my age (63), and, of course, I answer truthfully. One boy said, "Wow, you are almost as old as my Grandpa, and he is REALLY old.  He's 66!"  Very cute.
Connecting with kids in grade 1 or grade 10 is what it is all about.  I was very touched that some students walked up to hand me their name tags – to keep- because "I want you to remember me."   Very sweet. Nothing in teaching and technology will ever replace the eye contact and exchange of smiles. I love receiving the thank you notes and funny drawings as well.  One little boy wrote: "You are very funny and I love Grady."
I like to pass the Grady prototype plush bunny around, and everyone gives him a little hug. Kids notice everything- like "Grady's whisker is in his eye, and you should fix it, because it is bothering him."  All right, whisker fixed!
Children are so kind.  When reading to the kids, I wear bunny ears, which fell off at one point, and a child hopped up to pick them up and handed them to me. Grady the prototype bunny fell off my lap, and was caught by another student. He gently put Grady back on my lap, saying that he was very glad that Grady "Did not get hurt."
Children have no inhibitions, which can be very funny. I walk a fine line as a guest author, because I am not really the teacher, but of course, all behavior is