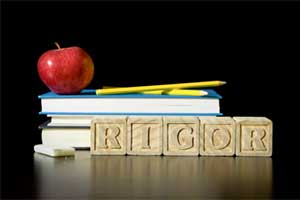 Blended learning can mean different things to different people. One teacher I talked with explained it as "using technology in the classroom", yet another described it as "incorporating technology as at least half of your instruction." So what does it really mean?
When I taught at the university level, I used blended learning for approximately 1/3 of my instruction. Typically, I created online modules where students would explore content, then reflect on that content on shared bulleting boards. I also taught two fully online classes. What I discovered was that blended instruction was more effective, because all students could participate in their own way. The technology encouraged everyone to participate, not just my most vocal students.
Blended learning occurs when technology is at the heart of teaching and learning, and usually when it is used to customize instruction for students. There is not one standard model for teaching; blended learning can be incorporated in many ways.
Challenges of Blended Learning
There are several challenges to blended learning. The benefits can outweigh the obstacles, but they do need to be addressed. First, you must have enough technology that is useful. For example, I was in one school that wanted to focus on blended learning, but each teacher only had access to three computers in his or her classroom, all of which were running outdated software. There was one set of IPads for the school, which could be checked out from the media center. The teachers who wanted to use technology more struggled with access.
A second obstacle is a lack of training for teachers. Whether it occurs through Twitter chats, face-to-face professional development, or webinars, teachers need hands-on training as to the best uses of technology and how it can positively impact student learning. Although our students are digital natives, not all teachers are comfortable with technology....