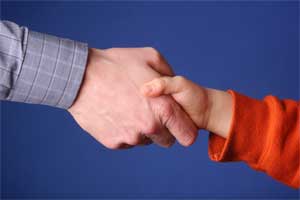 Teachers are loving people who come into the profession to make a difference in the lives of children. Their intentions are good, but when misbehavior occurs, some teachers will, out of sheer frustration, resort to making deals with the students just to survive.
If bargaining does not work - and it does not - teacher behavior may escalate from frustration to threats, coercion, punishment, and humiliation, because survival is the last resort. There is a solution to refraining from making deals and coercing students and acting in a less than professional manner.
Some teachers and principals have resorted to these acts to "get students to behave...."

By Jennifer Davis Bowman Ed.D.
It's that time of year again and thus I was thinking of ways to insert holiday concepts into my instruction. I was thinking what better way than to steal ideas from the beloved Grinch! We are all familiar with the story of "How the Grinch Stole Christmas" and thus, it …

By Sarah Powley, Education Coach
FFA is an example of the kind of interdisciplinary learning that our students need.

By Tina Bacolas
One of the best viral YouTube sensations I've caught in the past few years, "The Difference Between Cats and Dogs" features a Golden Retriever and its puppy. While this video has nothing to with education, it has everything to do the student-centered learning I saw taking place in that …

By Teachers.Net Resources
Classics to help you plan activities for the December!

By Stewart Brekke
According to a recent study, for the first time in American history the high school graduation rate was over 80 percent. If the the rate of improvement in this statistics sustained, by 2020 the high school graduation rate will approach 90 percent. Since 2006 the national rate has increased by …

By Barb Stutesman
The latest quotes for educators, posted daily on the General Interest Chatboard!

By Internet Scout Report
A free resource that offers hour-long webinars on a range of U.S. budget related topics. Teachers will especially enjoy the Educator Toolkit, which includes lesson plans and activities on topics such as campaign finance, lobbying, and historic events related to the federal budget.

By Shabana Jameel
The author amkes the case for Muslim children being allowed to participate in Halloween traditions. "There are no documented accounts of Muslim children who ended up apostatizing because they wore a Halloween costume and went trick or treating."