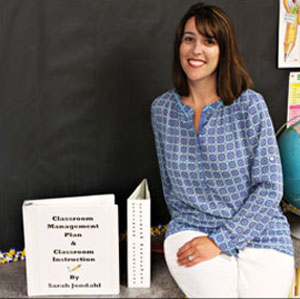 There are many steps or procedures to follow in order to make a ceramic piece functional. It starts with the foundation and consistency of the clay, while it is being thrown on the wheel. As the clay is spinning in the center of the wheel, you take control so that it doesn't wobble and then you put it into shape. It is crucial to know how to move your hands as you shape your piece, and you have to repeat the procedure to be successful.
Just as making a piece of pottery requires procedures, managing a classroom also demands them, too....

By Bill Powers
I have challenged myself to face my adversities head on with a smile. I have faced many in my life and I know many more lie ahead of me. I am thankful to have been giving the opportunity to face those in the past and I know what lies ahead …

By Bill Page
"Loners" suffer emotional pain often unseen, sometimes expressing that pain in ways that harm themselves and others. Teachers are in a unique position to help prevent at-risk kids from becoming loners, or at least, to help them define their roles more positively in school and society.

By Teachers.Net Resources
The scent of cinnamon in delightful shapes – a great holiday or seasonal craft activity for kids and adults.

By Marjan Glavac
Marjan has once again combed the www to save you time in finding five more sites the busy educator needs to check out.

By Teachers.Net News Desk
The Western Union Foundation,Discovery Education and the Association of Educational Publishers (AEP) has announced the launch of Open Doors: Unlock Your Future, a new online destination providing high school students, educators and families with high-quality tools and resources to help students prepare for their future through in-depth career exploration. …

By Teachers.Net News Desk
The Siemens Foundation and Discovery Education, along with their partner Oak Ridge Associated Universities, have announced they will begin accepting applications for the 2014 Siemens Teachers as Researchers (STARs) and Siemens STEM Institute programs two months early. Educators from across the country can submit an application to attend one of …

By James Wayne
Your students will be motivated to write when they're offered these prompts, and you'll enjoy reading the information they offer, too!

By Barb Stutesman
A fine collection of 31 quottions for your newsletters, blogs, or just for your private daily inspiration.

By Ron Victoria
December is full of special days to celebrate…not just the usual holidays, but others that are kooky, and some more serious.

By Teachers.Net Resources
Printable aids developed by teachers, shared here at no charge!