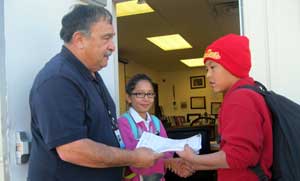 How Do I Get Them to Stop? These are our two most frequently asked questions: 1. How do I get this student to stop doing...? 2. How do I motivate the students? Our answer to question one is always the same. We can help you, but we would like more information about you and your classroom so that we can better frame an answer. We ask the person, "Please send us your classroom management plan with the procedures that spell out what it is you want your students to DO." In over 25 years of asking, we have never received a single classroom management plan in response to our request....

By Dré Cleveland
Andréa shares how teachers can harness the power of techniques used by great sales people to get students excited and engaged in classroom lessons.

By Bill Page

//
Bill Page's book At Risk Students: Feeling Their Pain, Understanding Their Plight, Accepting Their Defensive Ploys (2nd Edition) is available through Amazon.com.
"Can you hear me now?" is a commercial for mobile telephone service that …

By Marjan Glavac
Marjan continues to search out the best of the www for educators. Be prepared to bookmark these great Internet resources selected especially for educators like you!

By Teachers.Net News Desk
A new study claims humans are evolving to become less intelligent.

By Teachers.Net News Desk
Created by the TeacherLink initiative at the Utah State University College of Education, this site provides direct access to NASA instructional units and lesson plans.
Visitors will note that there are over 40 different resources here, listed alphabetically.
The resources are designed for students from kindergarten to college, and they include titles …

By Teachers.Net News Desk
MathGrapher is a stand-out graphing tool designed for students, scientists and engineers.
Visitors can read the Introduction to get started, as it contains information about the various functions that the tool can perform.
The Picture Gallery provides interactive demonstrations that show visitors how each operation is performed. Also, the left-hand side of …

By Teachers.Net News Desk
Academic achievement, student behavior, and classroom culture – the ABCs that many schools struggle with – are areas of excellence for more than 300 schools recognized by the Character Education Partnership

By James Schneiter
In this excerpt from the author's fictional novel, The Last Quarter: A Middle School Story, the main character contemplates the effect upon her life of her choice to be a working educator.

By Teachers.Net News Desk
The Arts at the Core Initiative is part of The College Board's Advocacy & Policy Center, created "to help transform education in America." Part of the Center's work involves the Arts at the Core project, whose goal is "to empower education leaders, particularly in under-resourced districts, to implement rigorous arts …

By Ron Victoria
December is… National Drunk & Drugged Driving Prevention, National Stress-Free Family Holidays, Universal Human Rights, and Safe Toys and Gifts Month.

By James Wayne
In 1990, the two ends of a tunnel connecting Great Britain and France were connected. The diggers had started at each end and met in the middle, 132 feet below the bottom of the English Channel. It took a lot of careful planning to meet like that. Have you ever …