How to Differentiate the Leadership of Teachers
By Christopher M. Longo, Ed.D
@DrChrisLongo follows @teachersnet

Recently, our district administrative team had its annual 2-day retreat. The presentation was facilitated by Dr. Robyn Jackson of Mind Steps (Washington, DC ). With the current teacher evaluation model in Connecticut (SEED) being tweaked and modified by districts this spring and summer, one focus doesn't change- the need to give effective feedback at pre- and post- conferences and after lessons.
The focus of the workshops was to understand and apply the four types of feedback given to teachers. These four types are: diagnostic, prescriptive, descriptive, and micro. Diagnostic feedback is to be given for novice teachers or teachers who have been classified as below basic in areas of the evaluation process. Prescriptive feedback is given to apprentice teachers (or those classified as "Developing" in the eval process). Descriptive feedback should be given to teachers who are practitioners, whose who have been previously evaluated as proficient. Lastly, micro feedback is given to master teachers.
Administrators give diagnostic feedback by "diagnosing" what is not working and trying to assist the teacher with "why?" Prescriptive feedback allows for the administrator to present two options for the teacher to improve on an area. It is helpful to have a third idea or option handy as a back up. Descriptive feedback is what I am very comfortable using, as it allows for more reflection on the part of the teacher. Micro feedback is reserved for teachers of high ability and skill.
After looking at several classroom scenarios, viewing classroom instruction video segments, and preparing to understand feedback through this lens, I have reflected on my practice of differentiating feedback. Historically, administrators have been trained to give feedback that was descriptive in nature. The question that arises is, "How do you provide feedback that is reflective in nature to a teacher who is novice?" Novice teachers require diagnostic feedback, and, over time, can improve their practice to elicit other types of feedback.
Also discussed at these workshops was the concept of Will and Skill. Jackson and Mindsteps suggest that there are four types of teachers that have a different amount of "will" and "skill". Simply stated, will refers to the teacher's motivation and skill is the teacher's capacity (pedagogical and subject area knowledge). Teachers can be classified either as: 1) high will/high skill, 2) high will/low skill, 3) low will/high skill, and 4) low will, low skill.
In the midst of continued teacher evaluation changes, I hope to utilize these strategies on giving effective teacher feedback based on the types of teachers that I supervise. As administrators and instructional leaders, we always suggest and enforce differentiation as a valuable strategy. So, why don't we practice what we preach and differentiate for our teachers? I have differentiated for my students. I have differentiated for my athletes that I coached. I have differentiated for my staff when delivering professional development. 2014-2015 is the time to differentiate feedback for teachers, so that they will become stronger reflective practitioners, ultimately benefiting our students.
About the author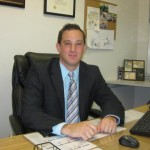 Dr. Christopher M. Longo is an assistant principal at New Milford High School in New Milford, Connecticut. Christopher has experience in instructional leadership, writing and designing curriculum in science, in addition to presenting professional development in the areas of curriculum, instruction, technology, teacher evaluation, and school climate.
Dr. Longo has completed research in the area of inquiry learning, creativity, and science fair achievement. He has published two articles related to inquiry in science and creativity.
Dr. Longo has created a new Leadership Twitter chat session (#ctedlead), where leaders from around the country (and world) to discuss current topics in leadership.  He is also part of a group called #ctedchat, a chat group of Connecticut educators.
Click here to access Dr. Longo's blog.