Sanitizing Classroom Toys – Preschool and Beyond
By Cheryl Hatch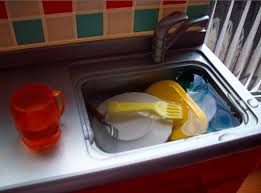 Sanitizing preschool toys is important…and it is different than cleaning or disinfecting toys.  Know the difference and reduce the risk of flu and illness in your program.
Each year (and each week), the Centers for Disease Control (CDC) posts their Weekly U.S. Influenza Surveillance Report.  This report shows data regarding the movement and spread of the flu.
In week 51 of 2014 (week ending December 20, 2014), for example, the flu reached what was considered the epidemic threshold.
The past several years have shown high levels of flu activity in December:  the level of activity that we used to see earlier in the season.  Because the flu is spread through sneezing and coughing, spaces where people are together hold a higher risk of spreading the flu as well as other illnesses.
This means…….mhmmmm……our preschool programs and our homes.
Preschoolers Are Learning To Share Everything…….Including Germs!
Preschoolers are adorable.  They are typically caring, lovable and learning to share…….EVERYTHING! They are learning to share toys, hugs and kisses as well as coughs and sneezes–all of which include sharing germs.
Remember that awesome ice cream sundae the children made in dramatic play?  Remember that it looked so delicious they forgot  it was pretend and actually put the spoon in their mouth?
And those blocks they used to build an awesome house with?  It seemed all of your little construction workers were sneezing a symphony while building.
It is your job to keep the germs at a minimum in your classroom.  Germs are shared through coughing, sneezing and drooling!  I HIGHLY recommend a "Wash Me" bin for every classroom!  Sanitize these toys at the end of every day!
Cleaning, Disinfecting & Sanitizing Preschool Toys
When was the last time you cleaned, disinfected or sanitized your classroom materials?  Before any of us can answer this question we need to be clear on the difference between the three terms.
Cleaning Preschool Toys
The Process:
Cleaning refers to any process that removes visible dirt, debris, food, etc. from a toy.
You do this by washing or scrubbing the toy or area and rinsing it off.
The Purpose:
The purpose of cleaning is to remove dirt and debris.
However, cleaning does NOT kill germs.  To kill germs, you need to sanitize preschool toys.
This is typically what we do to the tables and chairs, the dishes and items in dramatic play or even the baby dolls.  You might sometimes place all the toy cars in a bucket of soapy water….swish them, give them a quick wipe down and rinse.
Sanitizing Preschool Toys
The Process:
Sanitizing refers to treating or cleaning with a product that kills at least 99.9% of germs.
You do this by using a product that lists on the label that it kills germs.  Many times you might wash the table and chairs and then follow up by sanitizing.
The Purpose:
The purpose of sanitizing is to kill bacterial germs or contaminants with the goal of reducing the number of them on the toys or materials.
Cleaning and sanitizing preschool toys are not (separately or combined) considered disinfecting!
Disinfecting Preschool Toys
The Process:
Disinfecting refers to treating or cleaning with a product that is listed to kill 100% of the germs listed on the product's label.
The Purpose:
The purpose of disinfecting is to kill pathogens that may be on products.
So, WHICH Should Be Done and Where?
It will depend upon the toy, material or area.  Below is a simple chart [continued on pg 2]